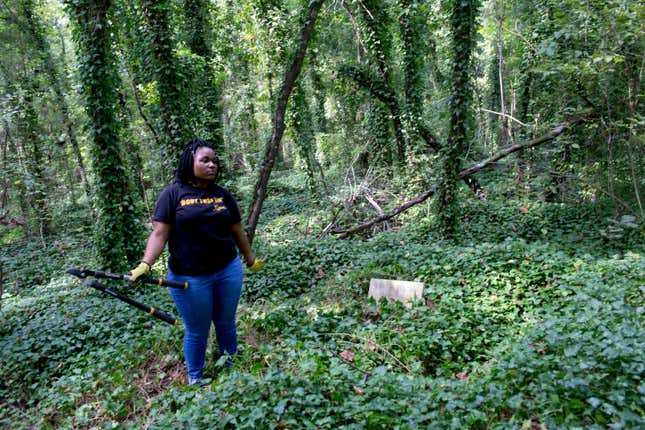 Updated 2/25/23 at 8:00 a.m. E.T. 
All across the country, Black Americans are fighting to save some of our most sacred landmarks: cemeteries. In many places, what were once places where Black people went to honor our lost loved ones have been lost to time.
Small Town Horror: The Story of the Largest African Burial Ground in the U.S.
In St. Louis, the Greenwood Cemetery, founded in 1874, is the burial site of roughly 50,000 Black Americans, including Dred Scott's wife, Harriet Scott. Now, overgrown weeds cover the aging headstones.
And in Virginia, years of neglect of Black burial sites pushed residents to rally the state to fund the restoration of Black cemeteries that had fallen into disrepair.
This story is about a 150-year-old gravesite that most residents never even noticed was there.
What Happened to One of The Oldest Black Cemeteries?
Scrolling through photos of the wooded area off Piney Meetinghouse Road in Potomac, Maryland, you'd likely never guess you were looking at hallowed ground.
Overgrown vines, discarded tree stumps, and trash litter the area covering the sharp-edged headstones, inconspicuously poking out of the ground.
Cherisse Milliner, who spoke to WUSA9, is one of many Black residents whose family members are buried at the former-Union Wesley Methodist Church cemetery and fought to have it restored.
"I have to fix this," Milliner, whose great-great-great grandfather is buried there, told WUSA9. "I have to make this right."
The story of how the 150-year-old gravesite for freed and formerly enslaved people in Potomac ended up as a neglected illegal dumpsite is complicated.
According to reports obtained by WUSA9, Montgomery County (which includes Potomac) auctioned off the land to a real estate developer in 1975. The land sold for only $162. However, according to WUSA9's reporting, neither the county nor the developer knew the location was a gravesite.
From there, the land was passed on to the developer's son, Jeff Joseph, who paid to have it surveyed after learning about its history.
It wasn't until 2018 that Montgomery County confirmed that it was, in fact, a burial site. The survey noted that the cemetery was in poor condition and "neglected."
While it was a start to get the county to acknowledge that the area was a cemetery, that didn't automatically mean it was getting restored.
Millner and other concerned residents petitioned the county for years to restore the cemetery. However, when reporters at local outlets like WUSA9 began asking questions, the county took action.
Montgomery County told WUSA9 they would begin "investigating the most appropriate means for securing, preserving, and maintaining the site of the historic Wesley Union Methodist Church Cemetery."
"I was so happy to know that my ancestors are finally going to be respected," Milliner told the outlet. "Most important was knowing my great-great-great grandfather, who was a slave in the civil war from 1861-1865, would receive the respect that he too deserves."