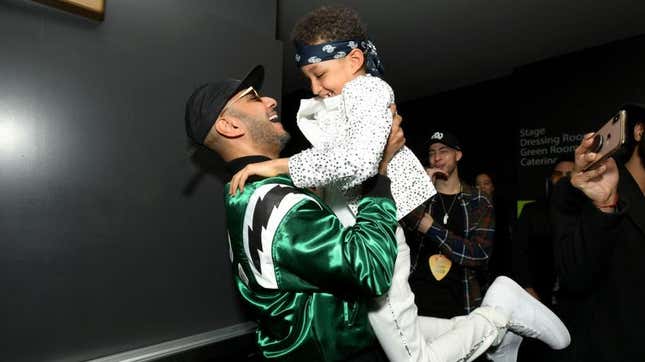 Every time Kendrick Lamar drops an album, hip-hop fans are expecting a masterpiece and more times than not, he delivers. But, each project comes with its own set of struggles and hurdles, and sometimes K. Dot needs assistance to help him create his best work.
In a recent interview with Jennifer Hudson on her daytime talk show, Grammy-award-winning producer Swizz Beatz revealed that his then-five-year-old son, Egpyt, helped Kendrick overcome one of the most difficult conditions an artist can experience, writer's block.
Beatz said, "I thought me and Kendrick was cool. But they kicked it off at the Super Bowl game, and I looked and him and Kendrick was talking for like 40 minutes."
He continued, "I went over and said to Kendrick, 'Is he bothering you? Should I move him? I know you enjoying yourself.' He said, 'No. Swizz, I had writer's block and what Egypt is telling me is helping me deal with something.'"
That one conversation Egypt, who is 12 years old now, had with the To Pimp a Butterfly artist led to the two working together on one of Kendrick's more underrated records, "untitled 07."
The track, which was featured on the Compton rapper's 2016 compilation, untitled unmastered, was the first single released for the project. But, the part of the song that Egypt produced is only included in the extended version of the record.
Nearly three minutes into the record, the beat switches and turns into a whole new track, which is the part that Swizz's son produced. K. Dot even shouts out the young artist on the record saying, "Young Egypt."
Althought the 2016 project isn't considered a proper album by the Compton artist, it still has plenty of gems on it considering that he created most of the songs during the same sessions coming up with the concept for To Pimp a Butterfly.