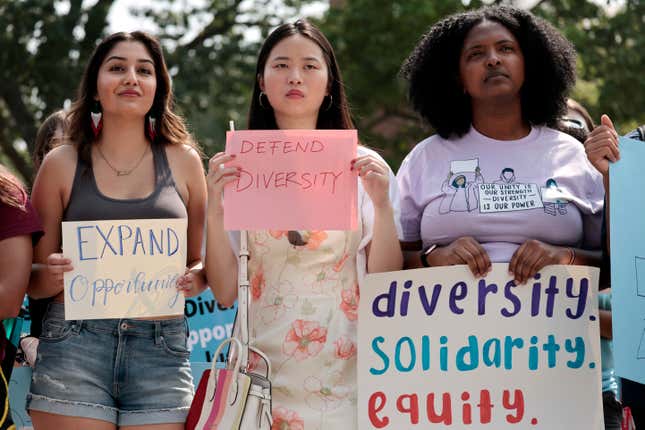 You can be gifted, Black and still need a boost. And that's exactly what conservatives want to do away with.
Afraid Of Losing Political Power, White People Weaponize "Identity Politics"
My fiance and I put a contract on a new house on Thursday, the same day that the Supreme Court's six conservative justices banned Affirmative Action in college admissions. It's more expensive than I thought we'd buy, and the sale price is definitely one that my mother, who raised me in subsidized housing and various rentals until she copped a foreclosure when I was 13, would have ever imagined.


But what do those two things–the court's decision on Affirmative Action and my pending status as a new homeowner–have to do with one another? Almost everything. For us, and millions in the Black middle class, college degrees were the ladder from the places we grew up to the one we'll be moving to shortly. It's how a kid from the projects in Pittsburgh opened the door to being a writer and editor for some of the nation's biggest media platforms.
My own path took me through an HBCU, but my partner's ran from being a Guyanese immigrant, to graduating at the top of her high school class in the Bronx, to double degrees from Cornell and a juris doctor from Villanova. If it's unclear at this point, education also gave my partner an uncomfortable kinship with Clarence Thomas, who likewise used Affirmative Action to ascend from a poor, Black community to Ivy League credentials and a legal career in public service. The difference between them is that unlike Clarence Thomas, she doesn't suffer from imposter syndrome so acute that she spent her career trying to burn down the same ladder she once climbed.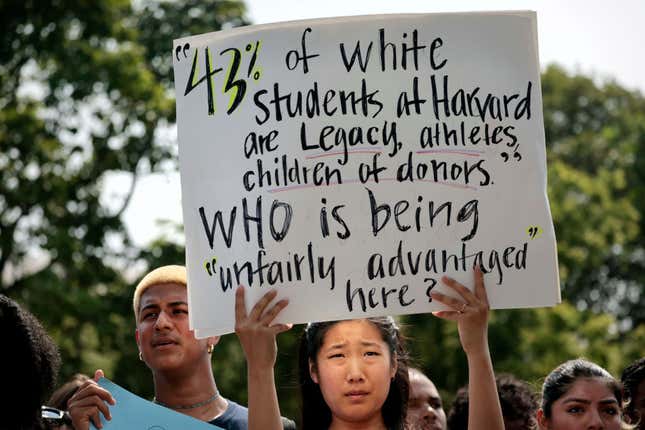 Instead, she accepts that programs like the one that brought her to Cornell back considered race as a factor. In the early aughts, the university wanted to diversify its student body racially and economically, so it recruited students like her, who qualified academically but didn't come from wealthy families or meet 'legacy' admissions criteria–an impossibility for a Black woman who was only brought to the country as a child in the early 90s. For a time, that approach worked well enough that she matriculated to Cornell with other Black and brown high achievers from the five boroughs and Philly. But that didn't mean Cornell had propped the door open to subpar candidates only because they were Black or Hispanic.

"What gets lost in this conversation about Affirmative Action is that these are kids who deserve to be there. I deserved to be at Cornell," she said as we talked minutes after the Court's decision was released. "It's not like they look at the application and say, 'Oh, you're 180th in your class, but you're Black so c'mon in.'"

Conservatives feigned ignorance of this fact–that absolutely no university lowered their admissions standards to admit more Black students–while they worked for decades to dismantle Affirmative Action. They promoted the farce of color-blind institutions as a remedy for unqualified Black kids taking spots at elite universities that white or Asian kids deserved. But their actions betray that rhetoric; "Deeming race irrelevant in law," as Justice Ketanji Brown Jackson wrote in her dissent, "does not make it so in life." To truly eliminate race in college admissions would also require eliminating proxies for race. But right-wing activists are fine with practices like legacy admissions or stepping on the scale for the children of wealthy donors. Don't expect the court to take that up anytime soon.
Instead, the right did what it always does: focused on damaging families like ours by conjuring the spook of the undeserving, below-average Black student gaming the system. They ran the same play in their effort to get President Biden's student loan forgiveness program ruled unconstitutional, in part by whining that it wasn't fair to kids who could actually afford to pay off their loans. Yep, that was actually in their lawsuit.
Which brings me to an evening a couple months ago, before the Affirmative Action decision and before we put our dream home under contract. My fiance, the Caribbean-bred, Bronx-raised, Ivy educated former prosecutor, walked in our bedroom with a tear-streaked face. She'd just found out that her law school debt–north of $100,000–had been forgiven under a separate federal program that credits lawyers and other professions for years of public service work toward student loan forgiveness. We thought she still had years left to work before even becoming eligible, but after the pandemic, the Biden administration accelerated the timeline for many borrowers, making them eligible early.

We got lucky: the public service forgiveness program wasn't challenged like Biden's broader forgiveness plan, and so, viola! Affirmative Action helped her get into an elite university that she was imminently qualified to attend, which allowed her to commit to public service in exchange for the fulfilled promise of a clean slate on her debt. The combination of all those things means that we're able to afford a bigger home, in the kind of neighborhood that provides safety, amenities and quality schools that neither of us had access to as kids. That's not gaming the system; that the system as it ought to work, for everyone, not just the privileged.

Too bad that as of now, that door is closed for millions of others who might have climbed up the same ladder.
Keith Reed is a writer and editor based in Pennsylvania