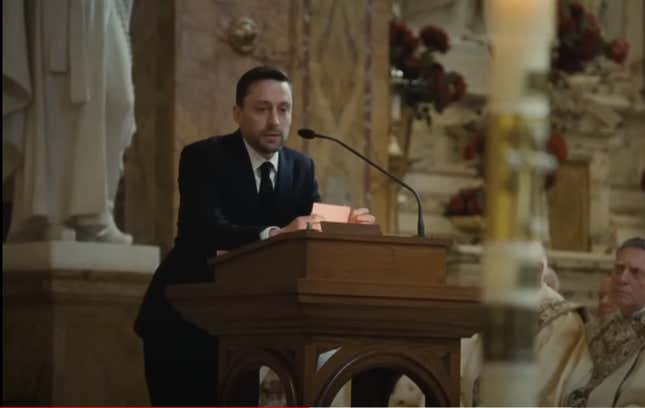 As the camera flashes over the youngest Roy son's suddenly fidgety fingers, it's clear something is wrong. The small pink index cards he's reading off of all of a sudden feel too far too big for him. The moment Roman locks eyes with his father's casket, we can tell it's over.

H.E.R. As "Belle" In Beauty And The Beast Is Our TV Pick This Week
"Is he in there," asks Roman, his finger pointing towards the now deceased Logan Roy, before waving over his siblings, who comfort him with stiff pats on the shoulder and an even stiffer hug. The embarrassment on their otherwise stoic faces is evident, even if, unlike Carl, they keep themselves from outright snickering at their younger brother.
His display of emotion is unseemly in the ultra-rich and very white world of HBO's critically-acclaimed show Succession. Jeryd Mencken, the series' loudmouthed Donald Trump stand-in, pejoratively calls Roman the "grim weeper." And even his own brother, Kendall, tells him he "fucked it up."
It's a harrowing and frankly humanizing scene for someone who, just an episode earlier, sold the United States to a fascist for control over a company. It also feels distinctly alien to anyone who's ever been to a funeral in the Black community, where displays of grief are common if not outright expected.
This scene would have gone down entirely differently in a Black church, says Greenville, North Carolina-based Faith Church Pastor Chance Lynch.
Within the Black church, Chance says people are allowed to be emotional and expressive about grief and joyful moments in their life. "If Roman had been in a black church," says Lynch. " I think that they would have stood up there and said, take your time. It's OK. They would have been encouraging, and everyone in that congregation would have been encouraging as well because they understood what that moment meant to be able to say those last words over his dad."
The reactions from the crowd were especially jarring, says Lynch. "Some of them look surprised, some of them looked confused, and others just looked disgusted like what is wrong with him," he says. "And I think the emotional disconnect is what is so different between that setting and the black church."
From the outside, says Lynch, the level of expressiveness within the Black community can be difficult to read. "Our music a lot of times is emotionally driven, our preaching can be charismatic," he says, "that expressiveness can come off to other cultures as being loud, sometimes even ignorantly as obnoxious... but that's not the case. It's just expressive."
Similar conversations have taken place within the Black community on social media. On Tik Tok, DEI coach Randi Bryant discusses the ways that Black Americans can be misunderstood in the corporate world too. She attributes this to different priorities and values when it comes to expressing ourselves. "Culturally, Black people value authenticity and truthfulness," says Bryant. "If you look at the way that we celebrate, whether it be a graduation or a wedding, we show openly our joy... you see our funerals, our sadness; we openly express that."
On the other hand, Bryant says when you observe those same events in white spaces, there tends to be much more of an emphasis on formality and politeness.
Regardless of whether you want to chalk this up to cultural differences or the emotional stuntedness at the heart of the Roy family, it was a difficult scene for anyone to watch. "When I watched the clips, I felt sorry for Roman because I felt like he didn't have anyone that really consoled him. I felt like even though he was in a room with many people, he was still abandoned," says Lynch.