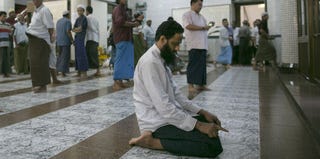 When two men hacked a British soldier to death on a London street last week, one declared that he'd acted in the name of Islam. CNN host Fareed Zakaria writes that when such violent acts occur, Muslims must say, loud and clear, that they do not condone the incidents.
I understand the feeling that some have that they should not be held responsible for the actions of a few perverted madmen. But the trouble is that these madmen claim that they are killing in the name of Islam and someone has to refute their claims – as often as they make them.

Now…the alleged murderer in Woolwich claimed that he was retaliating against British soldiers killing Muslims in Afghanistan.

I wish Muslim leaders would make the point that British – and American and other allied soldiers – are in Afghanistan at the invitation of the democratically elected government of that country. They are defending that government and Muslims every day from terrorist attacks and insurgent warfare. If these people want to protest the killing of Muslims, they should direct their wrath at the Taliban and al Qaeda and other jihadi groups because they are the ones who are killing Muslims and many others.
Read Fareed Zakaria's entire piece at CNN.
The Root aims to foster and advance conversations about issues relevant to the black Diaspora by presenting a variety of opinions from all perspectives, whether or not those opinions are shared by our editorial staff.