The Root's editor-in-chief, Henry Louis Gates Jr., wrote this about Don Cornelius --who died Wednesday morning at the age of 75 --in his book Life Upon These Shores:
Don Cornelius badly wanted his own radio show, and he took dramatic steps to realize his dream.
In 1966, the Chicago native left his steady job at Golden State Mutual Life and took a position (and an accompanying pay cut) at WVON radio as a fill-in disk jockey, a role that held little hope for future advancement. Fearing that radio would be a dead end, Cornelius accepted a job in 1968 as a sports broadcaster on the local television show A Black's View of the News, at WCIU-TV.
This job inspired Cornelius to combine what he loved about radio and television into a new program that would target an African American audience starved for programming. With his own money, Cornelius shot a pilot for a dance show, a black version of American Bandstand. He shopped the pilot to sponsors; most expressed no interest. But a manager at the Chicago-based Sears, Roebuck department store chain proved an exception, as he saw the show as an opportunity to boost record sales. With Sears's sponsorship, WCIU allowed Cornelius to broadcast his show on the network. Cornelius memorably named his invention Soul Train.
The first episode broadcast to the Chicago market on August 17, 1970, and aired weekday afternoons. The show found quick success, and Cornelius became famous in his home city. The next year he attracted a new sponsor in Johnson Products Co., the African-American beauty company famous for its line of successful hair products such as Afro-Sheen. Johnson's sponsorship helped Cornelius place the show into other markets. It grew exponentially.
G/O Media may get a commission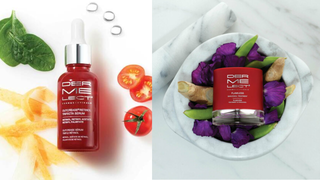 Save $19
Retinol Renewal Kit
Within a year Soul Train gained 25 new markets; in two years it was in 52 markets. By the middle of the decade, it had entered nearly 100 markets. The program went into syndication in 1971 and continued until 2006, becoming the longest-running syndicated television program in history. Soul Train was a harbinger of, and conduit for, the crossover market, cultural artifacts that appealed equally to white and black consumers.
Soul Train's format changed very little from its first episode, although Cornelius ended his role as permanent host in 1993. For 22 seasons Cornelius, with his baritone voice, was the embodiment of cool in his sharp suits and wide ties. The former substitute deejay became an arbiter of taste in popular culture. He chose all the music for the show, selecting the hottest songs on the soul, rhythm and blues and, later, rap charts.
The show also hosted major African-American performers as guests; Curtis Mayfield, Ike and Tina Turner, Michael Jackson, Aretha Franklin, Stevie Wonder and Marvin Gaye all graced Soul Train's stage, generally lip-synching their performances, as artists did on American Bandstand. The biggest stars of the show, however, were unquestionably the dancers. Young black men and women, decked out in the colorful, often flamboyant styles of the day, performed the most popular dances, serving effectively as dance instructors for thousands of black, Hispanic and white viewers, nationalizing black culture to an extent not possible before.
Just as black people dominated the show in front of the camera, they also held the major production roles behind it. The program thrived for more than three decades, weathering a number of fads along the way. In 1985 Cornelius created the Soul Train Awards to recognize the achievements of black artists, so often ignored by the white-dominated Academy Awards and Grammys. Until it ceased production in 2006, Soul Train shaped the tastes of popular American culture in a way that no single program has done before or since. Its place in the history of black popular culture and black business is sui generis.
Excerpted from Life Upon These Shores by Henry Louis Gates, Jr.. Copyright © 2011 by Henry Louis Gates Jr. Excerpted by permission of Knopf, a division of Random House, Inc. All rights reserved. No part of this excerpt may be reproduced or reprinted without permission in writing from the publisher.