On Feb. 2, 2018, Brooklyn, N.Y., wordsmith Skyzoo released an album called In Celebration of Us. I don't know exactly how I decided to listen to it—I can't call myself a Skyzoo fan—but since I did, it's been in heavy rotation. Skyzoo, as any hip-hop head will tell you, is a noted lyricist in the '90s tradition. He's got solid wordplay, substance, weaves in and out of bars effortlessly, rides the beats well—basically everything you could ask for in a lyricist you get in Skyzoo.
Toheeb Jimoh Talks The Power, Acting With Toni Collette, & Ted Lasso on That's So Random
And until now, I've never made it through an entire project of his. I'm aware of them all. Because I'm a hip-hop head, every time one of his projects drops, somebody asks me for my opinion on it. And I almost always give the same response: It's cool, but not really my bag. Put a pin in this.

It turns out that I'm a meat-and-potatoes guy about my hip-hop. What that means is this: If the production isn't good or if you're not a good performer of the art, I don't care how good a lyricist you are; I can't critically consume it. Shit, I can barely listen to what you have to say. It's why I've always struggled with Lupe Fiasco and even Black Thought—two of the best lyricists to ever do it, but I'm not invested in their catalogs, though I love the Roots for what they do, and they are responsible for some of my favorite hip-hop creations: specifically, "Act Too (Love of My Life)," which is EASILY one of the best pieces of music, regardless of genre, ever composed.
My favorite rapper is Jay-Z. My favorite hip-hop album has long been De La Soul's De La Soul Is Dead, but I think I might have to change that to A Tribe Called Quest's Midnight Marauders. N.W.A.—in all of their problematic glory—have long been my favorite rap group, though Outkast is right in there at 1a. As you can see, my tendencies skew toward the '90s. My top five will almost always feature Biggie, Jay, Nas, André 3000 and Ice Cube the Rapper before he died in the early '90s and was reborn as Ice Cube the Guy Gettin' Those Checks.

G/O Media may get a commission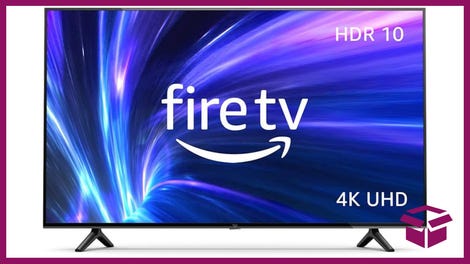 42% Off
Amazon Fire TV 50" 4K Smart TV
In that same vein, I also do think that Tupac is one of the greatest to ever do it. Was he one of the best technical rappers ever? No. Best lyricists ever? No. But did he perform rap on record better than almost anybody else? Absolutely. Tupac made you feel what he was saying in ways that folks like Scarface and Ice Cube did, though Cube's pen game was clearly on a hundred, thousand, trillion. Tupac, though, wasn't a bad rapper at all. He had tremendous skill and was better at maximizing his strengths than almost any other rapper. But his performance on the microphone stands out.
My favorite rap song is Pete Rock and CL Smooth's "They Reminisce Over You (T.R.O.Y.)," which for my money is the best rap song ever created. Which is interesting because CL Smooth would make not ONE single person's list—outside of his family's—of top 10, 20, even top 50 best rappers to ever do it. In fact, the only reason most of us know CL Smooth is because of the production he rapped over.
If Pete Rock weren't one of the greatest producers of all time, CL Smooth would be any other rapper from New York whose time came and went. And he's not a terrible rapper; he's just not great, either. Yet I know entire CL Smooth verses, and he sounded perfect over Pete's production. His voice is distinct and powerful. The marriage of the two artists made some of the best hip-hop of the '90s. So much so that I'm super pissed that their album The Main Ingredient is unavailable on streaming services. Somebody needs to make a call.
Despite the fact that I name-checked De La Soul Is Dead and Midnight Marauders (and honestly, you could throw Dr. Dre's The Chronic, Ice Cube's Death Certificate and Jay-Z's Reasonable Doubt in there to round out my top five), DJ Shadow's Endtroducing... (1996), RJD2's Deadringer (2002) and Dilla's Donuts (2006) are the three albums that resonate most deeply with me.
The most telling part is that they're almost entirely instrumental hip-hop albums. RJD2's "June" is particularly compelling as a piece of work. But they're producer-showcase albums where Shadow, RJD2 and Dilla spread their wings and do their things. DJ Shadow's song "Building Steam With a Grain of Salt" changed all kinds of shit for me. It even influenced the way I approached production and my own attempts at hip-hop artistry to this day.
But that highlights my struggle: Without a solid backing of music, it is very difficult for me to dig into what's being presented vocally, ESPECIALLY if you're a super technically proficient rapper who just happens to have a fairly droning voice. It's the Nas paradox—one of the greatest to ever do it, top five dead or alive, known for trash beat selection, but he gets a pass because he's Nas and released Illmatic. Because of Illmatic (and to a lesser extent It Was Written), I have to listen to people tell me that even though his beats suck often, I should push past because the God MC is spitting that knowledge. Which, yeah, not always, boo.
This brings me back to Skyzoo, an artist I've never listened to that heavily. After In Celebration of Us came out, because of how much I loved it, I had to ask myself what went wrong. I'm aware of Skyzoo and have listened to his projects in parts, so what gives? I revisited several of his projects, and the same problem always resurfaced—I didn't love the beat selection, even though I can hear the skill. None of it is bad; it just fades into the beats and background at times.
In fact, I think he's got a very, very solid understanding of what works best for him. But most of it didn't draw me in because unlike rappers like Tupac or Ludacris or Scarface, whose voices and lyrical performances are super instrumental in their craftsmanship, he gets lost.
Meanwhile, when I first pulled up "Everything's Fine" on In Celebration of Us, I INSTANTLY got invested when he started spitting. I was and am able to dig into the project because he picked some awesome beats to supplement his lyricism, even if he was the same solid Skyzoo he's always been, drawing it to the top of the beat for the first time in my listening experience.
Hell, it's the very reason that so many people from the '90s are familiar with and swear by Group Home's Livin' Proof album, and with all due respect, there's no reason to ever know Lil Dap or Melachi the Nutcracker. Melachi is so bad, he had Dap sounding like Nas. DJ Premier's production was SO good on that album that I can listen to it despite lyrics like this:
Yo, I rock on the block with the real hip-hop/As you start to clock ... and jock/Yo, I'm coming off with mad rage/Eighteen, and hitting the real stage/But don't worry 'bout me, 'cause I'm making it/And if I can't have it, then I'm taking it/That's how it is, 'cause I'm living trife/Where's my knife? Take a chance with your life/Rappers decapitate, and disintegrate/You I will mutilate, when I penetrate/Go for the one when I say raid/A hitman for hire and I wanna get paid/'Cause bullets are sprayed and anybody is laid/More money is made and that's the family trade/See, I make moves and tell what's the truth/That's why I'm here, to be living proof
That's Melachi's verse on the title track, "Livin' Proof." Where's Offset when you need him? And if you think that verse is better than any verse any Migo(s) has spit, you should stick a quarter in your ass 'cause you played yourself.
Skyzoo has always been a great rapper like Royce, Elzhi, etc. Always. And after revisiting previous projects, this album had the music that resonated the most with me. It only helps that the execution of the project is top-notch.
I acknowledge that lyrics are the bedrock of rap music, so ultimately as a fan and consumer, I try my best to dig into the lyricism, but when you're largely a rapper's rapper, it's easy to get lost on a record. I can understand people who are able to focus on lyrics over bad beats for the sake of artistry. But songs are not just lyrics; songs are beats and rhymes. And I need the beats and performance.
I'm too big a fan of music to ignore a less-than-decent beat for the sake of some extremely talented lyricism. My mind is not set up that way. I want to feel what's happening, and the beats are often the entryway. And to be fair, it's why Tupac was a hard sell for many until Me Against the World. All Eyez on Me and The Don Killuminati: The 7 Day Theory both have extremely solid production and are therefore much easier to consume and digest because Tupac performed the hell out of his records.
Think about this: One of the big controversies Drake was involved in was that on his album If You're Reading This It's Too Late, he had writers. Quentin Miller is credited for several of the records, and reference vocal tracks surfaced with him performing the songs word for word. And they sucked. He sucked on them. Drake takes the same shit, Drakes them with the exact same words, and all of a sudden you have hits. The performance makes all the difference. It's indisputable. For me, performance and production are how I listen to hip-hop. Lyrics are important, but I can't just forgo the rest.
How do you listen to your hip-hop?