David Bowie was an iconic figure whose genius, vision and artistic versatility inspired—and was inspired by—generations of black musicians and artists.  
Beyoncé's Feminist Anthem "Run the World (Girls)" A Decade Later
Bowie was an outspoken champion for diversity in the entertainment industry, and he was widely known to embrace black artists and their work. In his recent retrospective touring exhibition, David Bowie Is, he recalled wanting to be a white Little Richard at age 8 after being exposed to his music. "I wanted to be a musician because it seemed rebellious, it seemed subversive." In the '70s, Bowie—already a bona fide glam-rock star—turned to R&B, soul and funk to create music he dubbed "plastic soul." In the '80s and beyond, his irreverent style was a source of inspiration for artists across many genres, including hip-hop.
Here's a list of some of Bowie's more popular intersections with black musicians and performers:
Little Richard
G/O Media may get a commission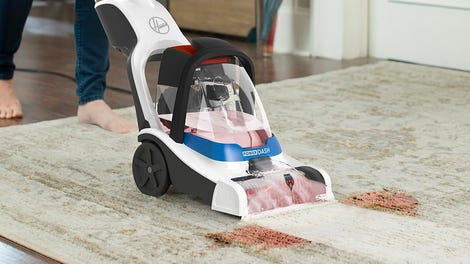 26% Off
Hoover PowerDash Pet Compact Carpet Cleaner
Bowie cited Little Richard as a major influence and said he heard the voice of God when listening to Richard's "Tutti Frutti."
Luther Vandross
Guitarist Carlos Alomar, who previously worked with Luther Vandross in 1974, invited him to attend a Bowie recording session at Sigma Sound Studios in Philadelphia. Vandross' amazing voice became a fixture on Bowie's R&B-inspired 1975 album, Young Americans, as a background singer. Vandross also co-wrote the single "Fascination" with Bowie. Vandross would later tour with Bowie as both backup singer and opening act.
Nile Rodgers
Nile Rodgers met Bowie, who was sitting alone at a club one night in New York City, and the two struck up a conversation about music, particularly jazz. They also talked about working on a song together, and the result of their collaboration was the 1983 chart-topping single "Let's Dance." Rodgers said the collaboration helped changed the course of his career, following the rise of the "disco sucks" era. Ten years later, Rodgers and Bowie would work together again, along with R&B crooner Al B. Sure, on "Black Tie White Noise," a song inspired by the Los Angeles riots.
Grace Jones
The similarities may be obvious, since both Grace Jones and Bowie flirted with androgyny and gender-neutral politics. The Jamaican singer covered "Nightclubbing," written by Bowie and Iggy Pop (who performed the original), on her fifth studio album of the same name in May 1981. (Incidentally, rapper Shyne would go on to sample Jones' version for his hit single "Bad Boyz.")
Labelle
Bowie launched his glam-rock era with the appearance of Ziggy Stardust in 1972. Around the same time, R&B group Labelle­–Patti LaBelle, Nona Hendryx and Sara Dash–entered their psychedelic fashion period and image makeover on the advice of their British manager at the time, Vicki Wickham, in 1971. Both the singer and the group would inspire countless artists. Hendryx would later work with Bowie and share the stage during a concert in Rotterdam, Netherlands, in 1987. 
Michael Jackson
Michael Jackson premiered his perfected moonwalk to the world in 1983. Yet Bowie jokingly claimed to have performed his version of the moonwalk first during his 1974 Diamond Dogs Tour. It is also documented that Jackson and Al Green taught Bowie how to do the robot during a party for Green hosted by Tito and Dee Jackson in 1975. Bowie would perform his hit "Fame" on Soul Train later that same year.
Rick James
In a 1983 interview with MTV's Mark Goodman, Bowie boldly confronted the cable network for its lack of racial diversity. It was a sentiment shared by Bowie pal Rick James, who called MTV racist after the network turned down his 1982 video "Super Freak."
Hip-Hop
Irreverent, unapologetic and sometimes flashy, Bowie fit right in with the new generation of emerging artists. Bowie's music has been referenced by rap and hip-hop royalty numerous times and is indelibly etched into the genre's cloak. Queen Latifah contributed rap vocals to Bowie's "Fame '90" revival. Artists Jay Z, Ice Cube, EPMD, Public Enemy and Dr. Dre sampled "Fame" in their respective works as others have referenced "Under Pressure" and "Soul Love." Sean "Diddy" Combs' rap anthem "Been Around the World" (featuring Mase and the Notorious B.I.G.) features a sample of Bowie's "Let's Dance." And, upon learning of the glam rocker's death, Kanye West tweeted his condolences, citing Bowie as one of his "most important inspirations, so fearless, so creative, he gave us magic for a lifetime."
Janelle Monáe
Janelle Monáe's penchant for gender-neutral politics and androgynous fashion is clearly inspired by Bowie. Monáe even told Rolling Stone magazine that Bowie was a fan. She covered the legend's iconic hit "Heroes" in 2014 for a Pepsi campaign.
Tina Turner
Tina Turner's second coming can be partly attributed to her friendship with Bowie. According to her biography, Tina Turner: Break Every Rule, Bowie helped her solidify a contract with Columbia Records, which led to her critically acclaimed album Private Dancer in 1984. The album included Bowie's Orwellian-inspired tune "1984."
Mikol L. Clarke is a media professional who resides in New York City with his wife and son. He enjoys traveling, singing jazz and gospel music. Follow him on Twitter. Adrian Loving is a DJ, artist and professor in Washington, D.C. He is also author of the forthcoming book Fade 2 Grey: Androgyny in Eighties Popular Music. Follow him on Twitter.