Usually, when we think about teaching kids the importance of saving and handling money, it starts with a piggy bank into which they stuff a dollar or two until they reach a particular goal, smash it open and spend it all on that one thing.
However, Brooklyn, N.Y., mom Tanya Van Court came up with a better and more effective idea to teach kids not only to save toward actual goals but also share some while spending a little.
Van Court got the idea when her daughter, Gabrielle, who was about to turn 9, requested for her birthday enough money to finish saving for an investment account and a new bike.
"I knew that for her birthday she was likely not going to get either one of those fulfilled, and instead she was going to get a whole bunch of stuff like she's gotten for every preceding birthday," Van Court explained to The Root.
You know those gifts, the umpteenth doll/electronic device/*insert random game here* that your children may or may not play with, and five months later, you find it underneath their beds because they didn't really want or need it.
G/O Media may get a commission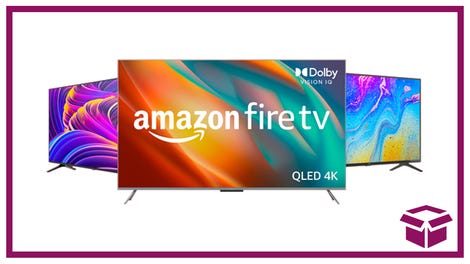 Ooh. stunning.
New Amazon Fire TVs
And so Van Court created Sow, which, she explains, is rooted in the hope of fixing the "broken gift-giving process" by allowing young people to register for goals, instead of material goods, and turning the mentality to one of saving, sharing and spending.
The idea is that children in this scenario have three options to which they can work toward. They have something they would like to save for in the future, like college. They have something they just like and want to spend money on, like a sweet new pair of sneakers; and finally, they have a cause that they'd like to share money with, like a charity.  
They fill out each of these categories on their Sow profile, and on special occasions, such as birthdays or holidays, in lieu of gifts that they may not actually want, friends and family can contribute money directly toward selected options to help the little ones achieve their various goals.
Eventually, Van Court hopes, the platform will evolve and grow to become a place for good recommendations on how to open an investment account, where to save money and how to make the right financial decisions, so that young people can have their money invested in smart financial vehicles.
"We have this amazing exchange of money or financial goods that is happening all throughout the year for young people, but we're not teaching them anything good about money during those times," Van Court added. "Sow is a platform that helps to teach young people healthy financial habits that will last a lifetime. And the foremost of those healthy financial habits is to really focus on creating goals, because goal creation is the first step to wealth creation."
And that's really the crux of it for the mother of three: creating a better future for her kids and other kids so that they can look at the world, especially their financial world, differently.
"If they spend their entire childhood thinking … 'Every dollar I get I'm going to do three things with it: I'm going to save some for the future, I'm going to share some with those who are less fortunate and I'm going to spend some, but only on something that's really meaningful for me' … then that completely changes their relationship with money, and what they're going to do with money from the time that they get their first job," Van Court pointed out.
"It is so important that young people have a healthy relationship with money so that they can achieve their financial goals and so that money can be an empowering tool for them and not a crippling factor in their lives," she continued. "The ability to sacrifice in the short term to achieve your goals in the long term is really what leads to wealth creation for all communities of people, for all socioeconomic backgrounds, and isn't that what we want for our young people?"
Breanna Edwards is a newswriter at The Root. Follow her on Twitter.