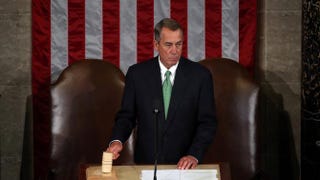 House Speaker John Boehner (R-Ohio), who has been under extreme pressure by the GOP to defund Planned Parenthood, will resign from Congress, CNBC reports.
Aides for Boehner told the news channel that he will give up his House seat at the end of October.
The news channel notes that Boehner was under intense pressure by members of the Republican Party who argued for a government shutdown should federal funding continue for Planned Parenthood.
"Speaker Boehner believes that the first job of any speaker is to protect this institution, and as we saw yesterday with the Holy Father, it is the one thing that unites and inspires us all," a Boehner aide told CNBC. "The speaker believes putting members through prolonged leadership turmoil would do irreparable damage to the institution."
Read more at CNBC.