Now that Hollywood's award season has come to a close, perhaps it was inevitable that the fawning over media darling and Academy Award winner for best supporting actress Lupita Nyong'o would come to an end as well. The Hollywood Reporter put the official nail in the cliched coffin with its latest print issue, which asks on its cover, "What Happens to Lupita Now? How to Turn an 'Exotic' Actress A-List."
The question may sound odd to those of us who don't consider Nyong'o "exotic." She's not some rare bird with colorful, fluffy feathers that no one's ever seen outside the Amazon; she's a dark-skinned black woman, who exist everywhere, even if there aren't enough women who fit that description in Hollywood. That cover line is also eyebrow-raising because for months now, we've all watched Nyong'o grace red carpets, rack up awards big and small and collect magazine covers and feature stories that highlight her remarkable beauty, delightful personality and impeccable fashion. But, as the Hollywood Reporter points out, it takes more than great press (or clothes) to make a star.
"But now that the ball is over and the applause is dying down, what can Nyong'o really expect from Hollywood? While the stage would appear to be set for her to ascend to the A-list—just as Jennifer Lawrence did after her best actress win for Silver Linings Playbook last year—it's not that simple," the magazine points out. "There's never been a black actress who has become the equivalent of a Julia Roberts or Angelina Jolie."
To be fair, several Academy Award-winning actresses have been cursed by their success. A 2012 story in Entertainment Weekly notes that the Oscar curse, which happens when an actress wins and then falls into oblivion, isn't a trap reserved for black women. That article points out that actresses Renée Zellweger (1993, Cold Mountain) and Kim Basinger (1997, L.A. Confidential) never rose to the lofty expectations after their Oscar wins.
But the Hollywood Reporter questions whether Nyong'o's blackness and her dark complexion will further complicate her chances at reaching A-list status or even having a sustainable Hollywood career. It sounds harsh, but it's a valid question. Despite being lauded as an "It Girl," IMDb shows just one post-12 Years a Slave project on Nyong'o's filmography, a minor role as a flight attendant in the Liam Neeson thriller Non-Stop.
G/O Media may get a commission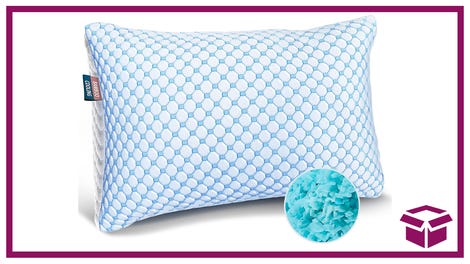 23% off
Nestl Cooling Pillow - Queen Size
In the article, a talent agent questions whether audiences can identify with Nyong'o because of her dark skin. "Would Beyoncé be who she is if she didn't look like she does?" Tracy Christian asked the Hollywood Reporter. "Being lighter-skinned, more people can look at her image and see themselves in her."
Let us not pretend that when it comes to black women, Hollywood doesn't overwhelmingly favor women with lighter complexions. However, the positive response to Nyong'o has been because of her unquestionable acting chops and because her beauty—short, textured hair and deep-hued skin—is a break from the norm. Contrary to popular belief, audiences do find beauty in a variety of complexions—yes, Hollywood, including darker complexions—and are eager to see more actresses who reflect the full scope of black beauty.
I believe Nyong'o's biggest challenge moving forward won't be her dark complexion but the limited roles that are afforded to black women in Hollywood.
Every black actress of note has talked about Hollywood scripts that marginalize them as "the black best friend" or, even when meaty, reduce them to the role of servants. 
I want to see Nyong'o work in films that give due respect to the wide scope of black women's identities. I would love to see her as a modern-day Working Girl, highlighting the struggles of a woman in the big city navigating the professional grind to pursue her dreams, or maybe starring in a biopic about Michèle Bennett, the infamous (and glamorous) former first lady of Haiti. I'm down for a romantic comedy in which Nyong'o is the highly pursued love interest, the black girl who gets her happily ever after. Am I dreaming too big for her?
The options for a beauty and talent like Nyong'o are endless. I just wish Hollywood knew what the audience has already figured out.
Demetria L. Lucas is a contributing editor at The Root, a life coach and the author of A Belle in Brooklyn: The Go-to Girl for Advice on Living Your Best Single Life and the upcoming Don't Waste Your Pretty: The Go-to Guide for Making Smarter Decisions in Life & Love. Follow her on Twitter.