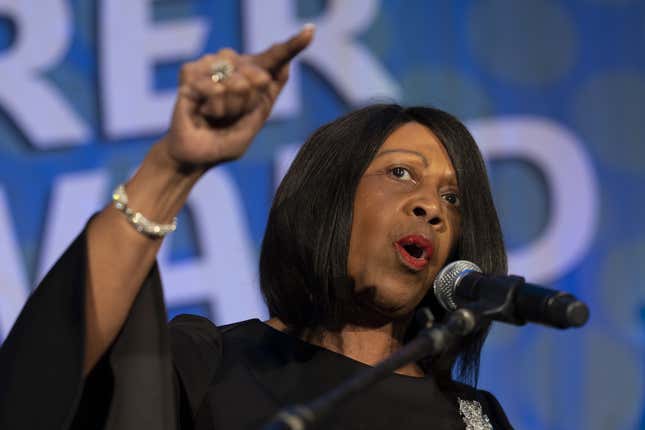 New Jersey Lieutenant Governor Sheila Oliver, a trailblazing Black politician, and gun control advocate, passed away on Tuesday. She was 71 years old.
Courtney B. Vance in Heist 88 Is Our Black TV Pick of the Week
While her cause of death is unknown, on Monday, the governor's office announced that she was receiving care at Cooperman Barnabas Medical Center in Livingston, N.J. but did not elaborate on what she was suffering from. On Tuesday, they announced that she had passed away.
"Tammy and I, and our children, are incredibly saddened and distraught to learn of the passing of our dear friend, colleague, and partner in government, Lieutenant Governor Sheila Oliver," wrote New Jersey Governor Phil Murphy in a statement.
Oliver's legacy dates to before her time as Lieutenant Governor. In 2010, she made history as the first Black woman to serve as speaker of the state Assembly. But she didn't stop there.
In 2017, Oliver was elected as New Jersey's Lieutenant Governor, making her the first Black woman to be elected statewide. She was later re-elected alongside Governor Murphy in 2021. "It has taken from our Independence in 1776 until this moment for New Jersey to have a woman of color serving in a statewide elected office," said Oliver in a speech after her 2017 victory.
While in office, Oliver championed key issues such as gun control and affordable housing. Following her passing, Murphy lamented over the loss of his second in command. "When I selected her to be my running mate in 2017, Lieutenant Governor Oliver was already a trailblazer in every sense of the word," said Murphy. "I knew then that her decades of public service made her the ideal partner for me to lead the State of New Jersey. It was the best decision I ever made."
Oliver's family also released a statement in the wake of her death. "May her memory be a source of comfort and strength to all who knew her," wrote her family. They asked the public for privacy as they dealt with their grief but said that memorial arrangements would be made soon.