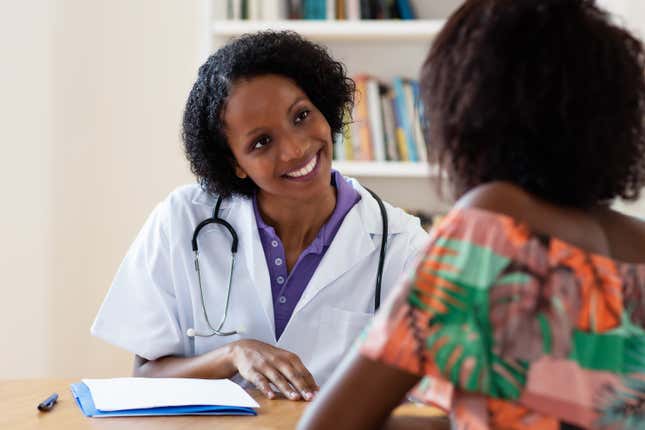 If you are Black, there is a good chance that you've had at least one negative experience with the healthcare system. Whether your pain was ignored or you felt unsupported by your provider, you likely wondered to yourself, "Am I tripping?" Here's why you shouldn't question yourself.
Healthgrades is a company that supplies patients with the tools to choose the perfect healthcare provider for their needs through its website. The goal of Healthgrades is to make sure that every person that visits the website can find providers that can help them no matter their race, socioeconomic status, and other identifiers. In 2022, Healthgrades released a report called DEI in Health Systems: Fostering an Inclusive Environment for a Healthier Future.
The report lays out specific reasons why Black patients are not getting the same experiences in the hands of healthcare providers, "Studies have shown that White patients tend to be healthier and enjoy greater access to medical services than Black and non-Black patients of color, many of whom already suffer from economic, political, and social inequities. The CDC reports that social determinants of health, such as where a person lives, their occupation, and available resources, contribute to 60% of health outcomes."
Dr. Soo Rhee, who is the VP of Medical Science, Quality Solutions at Healthgrades, provided insight into what Healthgrades is doing to implement diversity, equity, and inclusion in the healthcare system. She explained that Black and people of color experiences can vary in the hands of providers because of "explicit but also unintentional biases." Healthgrades allows patients to submit reviews about their experiences and help people find doctors that will provide the healthcare they need regardless of their race or socioeconomic status.
DEI in healthcare is crucial considering that the healthcare system has historically struggled with its relationship with the Black community. According to the Healthgrades report, there's proof that Black people have not received the care they need, "A 20-year cumulative study by the University of Pennsylvania concluded that Black patients are 22% less likely than White patients to receive adequate treatment for pain management. This occurrence stems from a long-held stereotype that Black individuals have thicker skin or a less sensitive nervous system, making them more tolerant of pain."

On the Healthgrades website, there are reviews about hospitals, doctors, and patients' experiences overall. There are also guides to what to ask your doctors or tips on how to speak up for yourself when getting treated. Dr. Rhee pointed to a specific call to action article titled, "Black Women: Tips for Talking to Your Doctor About Your Fibroids". Dr. Soo Rhee wants people to know that Healthgrades wants to ensure that Black people will not feel alone in their health journeys saying, "Without our health without our physical, mental emotional health, we can't really function. Healthgrades is here to help you, the consumer, to know and have a say in that choice and in their outcome."