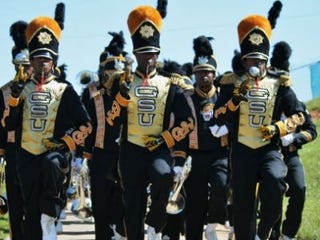 HBCU marching band competition to air on ESPN: ESPN's The Battle will follow the Grambling State University Tiger marching band from training camp to the Bayou Classic, where the band and its football team take on rival Southern University. Read more about it at BlackAmericaWeb.
GOP candidates forget to talk about Obama and jobs: Self-proclaimed Gingrich fan Ed Rogers of the Washington Post kept track of the number of times his party's candidates uttered the words "Obama" and "jobs" during Wednesday's GOP debate, and was more than a little disappointed by the final count.
Saudi women drive change despite mixed signals: NPR reports that Saudi women are getting conflicting messages from their government about whether they'll be allowed to get behind the wheel. Some  are driving to defy the current ban, and others say there are more important issues, like establishing an age of majority for women in the country.
Nia Long gives birth to baby boy: The 41-year-old actress welcomed her second child, Kez Sunday Udoka, on Monday.
In other news: Should Rihanna's Popularity Surprise Us?