On Wednesday night, approximately 1,000 community leaders and activists from around the country were able to "sit in circle" via telephone with legendary entertainer and civil rights activist Harry Belafonte for one hour as he shared his thoughts on the uprisings in Ferguson, Mo., and Baltimore, and the crippling poverty that victimizes too many communities of color.
Sponsored by the National CARES Mentoring Movement, moderated by Susan L. Taylor—founder and CEO of National CARES and editor-in-chief emerita of Essence magazine—as well as Asha Bandele—poet, author, veteran activist and CARES consultant—the telephone town hall provided an opportunity for intergenerational dialogue and healing.
Taylor positioned the killing of 25-year-old Freddie Gray in Baltimore as a "catalytic moment" that eventually led us to this "courageous conversation with our beloved Harry Belafonte."
"Mr. B., you've been Grammy'd and Tony'd and Emmy'd and also Jim Crowed," Taylor said. "Blacklisted by Hollywood, harassed by the House Committee on Un-American Activity, spied on by the FBI, threatened by the [Ku Klux] Klan, state troopers, the Las Vegas Mafia bosses and you're still standing strongly.
"So, tonight, the question is for all of us … what do we do with our power and how do we do it?"
G/O Media may get a commission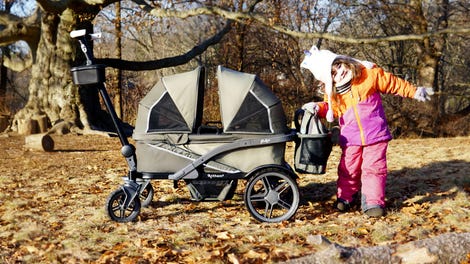 30% off
The Anthem All-Terrain Stroller Wagon Adventure Bundle
Go everywhere with your kids
This must-have bundle nets you either of Gladly's award-winning Anthem2 or Anthem4 All-Terrain Stroller Wagons as well as must-have accessories like a parent cupholder, a removable storage basket, extra-large canopies, a nap system, quilted comfort seats, a cooler bag with a padded shoulder strap, and a travel bag.
Taylor then handed the conversation over to Bandele, who delved into the duress that black communities across the nation have been under as the specter of police brutality looms ever closer to their front doors.
"Sometimes our grief and our anger has felt like a noose," Bandele said. "We thought to do at National CARES what African people have done since time immemorial, which is sit in circle, which is come together, gathered, and ask the most brilliant of us, which way forward in supporting our children, who are most often the bodies on the front lines most horrifically in front of armed law enforcement who seem more ready to kill them than they are look at them.
"But also for our young protesters," Bandele continued, "because but for them, we would not even be having this conversation. It was them who forced it with the rallying cry #BlackLivesMatter, so that's where I really want to begin, Mr. Belafonte … what would you say to them?"
Listen to the complete interview below to hear Belafonte share his thoughts on technology, media and how nonviolence and economic boycotts are key to the movement's success. A few of Belafonte's insightful, nuanced answers follow the audio:
On protests, and "thug" being the new "n—ger":
"The pain and the anguish of tanks and being called names and being viewed as misfits and discontents and unappreciative of what white America has given us and done for us, that is not a new definition. It has been there all along. We've been called n—gers from the day we landed on this continent. We may not have that in our vocabulary now because the n-word is socially unacceptable as an act of courtesy and politeness. You may not say it, but do you think it? You may not say it, but do you feel it? When you act upon what you feel, if you feel that the n—ger does not deserve any humanity. Then what do you say to yourself?"
On police brutality as a continuum of state-sanctioned violence and the dèjá vu of #BlackLivesMatter:
"When I came out of the second world war, America was rampant with the murders of black men around this country … we defended the nation, we fought for democracy, for the right to free speech, we fought for the right to be free and honorable people. Yet, when black soldiers came back from that victory, the celebration was not for us.
"Most of us still could not vote, most of us were still governed by segregationist laws so activated that black men were being lynched all over America, being lynched in our cities, North and South, yet there were never any statistics about that. This mayhem that we're experiencing in Ferguson and Baltimore today, is only a numerical query, it is not a query of the facts of it because the facts have always been there.
"And if one goes back to the days of slavery and wants to look at the evolution of the black experience in this country, violence has always been very central to our experience and injustice, and its application to that violence, has always been very prevalent."
On women leading social-justice movements:
"Women are at the forefront. They play a huge role. They make it uncomfortable for the rest of us because that is what they have to do, that's what they should do. And when they stop making it uncomfortable for the rest of us, we'll go back to our comfort zones. … Women hold an unusual tool in the sea of our culture. Women have the power to stop the universe, while men can merely dream about it."
On the importance of cohesive agitation and strategic disruption:
"We have to make those who are comfortable with our demise, those who find no reason to intervene and change the way in which business is done, we have to make them see that [their] indifference to our experience from this moment on is unacceptable, and we will do what is necessary to make your life uncomfortable as long as we stay in this place of abject pain and discrimination."
On global commerce and wealth and its direct relationship to the decimation of low-income communities of color in the United States:
"Cheaper markets mean that somebody has to be poor, somebody has to be exploitable, somebody has to be without power and without the ability to defend themselves against the onslaught of the power of finance and global treasuries …
"Millions of people who have no voice … and they are a cheap market, without access to anything that carries the debate into some faze-able place that gives them a fair chance at saying, 'Look at what you're doing to us. Look at what is happening to us' in a way that will touch the humanity and the sensibility of those who derive profit from what is happening to the people in cheap market."
On his mother, Melvine Bellanfanti's, wisdom and how she shaped his activism:
"In [my mother's] great melancholy on a very sad day, she came home defeated by the society at large—she went out to look for work and couldn't find it; she came home to find the food to put on the table and didn't have it—and she sat completely overwhelmed and stunned by yet another moment with poverty. She gazed at the wall and said nothing for quite a long length of time. She finally spoke and turned to look at me, her firstborn and the other of her children, and said, 'Never ever go to bed at night knowing that there was something that you could do to end injustice and did not take advantage of that moment.'
"My life has been charged with a great sense of, 'Where is justice? What causes injustice? What is it that makes all of these inequities come together in a place where poor people remain perpetually victimized? What is it that has made us indifferent to justice? What is it that desensitizes us as human beings?' I make it my business to never look away from injustice … but, wherever I find it, I engage it."
On self-care when fighting against injustice becomes difficult to sustain:
"I don't know if we can afford the luxury of exhaustion [with injustice]. I don't know if we can afford the luxury of being untouched [by injustice]."