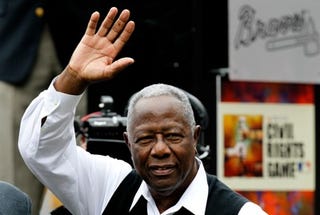 Move over, Babe Ruth. Hammerin' Hank Aaron is set to get the Hollywood treatment with Oscar-winning director Barry Levinson attached, according to Variety. The project is based on the Howard Bryant book The Last Hero: A Life of Henry Aaron, which details Aaron's historic chase of Babe Ruth's home run record from 1972 to 1974. He held the record until 2007, when he was eclipsed by Barry Bonds of the San Francisco Giants, who hit career home run 756.
"This was a difficult time in my life," Aaron told Variety, "but I'm confident we can all learn a little something from looking back at those times." Aaron is felt by many to still be the only true home run king in the wake of the steroid era.
Levinson is no stranger to baseball films, having directed the Robert Redford vehicle The Natural in 1984. While the Aaron film has not yet been cast, the Hall of Famer is reportedly set to be a consultant on the project, which will go into production next year. Aaron currently serves as a senior vice president with the Atlanta Braves.
Read more at Variety.