Former Denver Broncos quarterback John Elway was a great football player.

Full stop.
Since retiring from his position on the field and landing in the front office of the team he once played for, he's proven himself to be a spineless GOP barnacle complicit in the whiteballing of Colin Kaepernick and one of the largest donors to the Republican Party.
According to TMZ Sports which "combed through 2018 Federal Election Commission filings to see which A-listers were bucking up for the GOP, John is leading the pack by a few football fields — spending over $27,000."
Elway donated some $14,825 to NRA-backed Walker Stapleton in his push to become governor of Colorado and has given some $10,000 to the state's Republican committee.
Elway has also given $2,700 to Rep. Mike Coffman and $250 to Georgia Rep. Karen Handel.
Why does any of this matter? Because Elway is not only a top donor for the GOP, but he's the general manager for the Broncos and he actively worked not to sign Kaepernick.
G/O Media may get a commission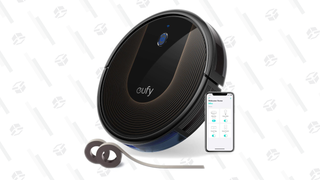 48% Off
Eufy BoostIQ RoboVac
Back in August, Elway claimed that Kaepernick was offered a contract and turned it down, which wasn't entirely true.
"Colin had his chance to be here," Elway said. "We offered him a contract; he didn't take it. As I said at my deposition, and I'm not sure if I'm legally able to say this, he's had his chance to be here. He passed it."
What Elway failed to mention is that the offer was before Kaepernick's protest stance and it was a huge pay cut.
Here's how SB Nation breaks it down.
1. The Broncos pursued Kaepernick before he began protesting. When Denver gave a contract offer to Kaepernick, it was as part of a trade negotiation between the Broncos and 49ers in spring 2016.

Denver won the Super Bowl earlier that year, but Peyton Manning retired and Brock Osweiler spurned offers to re-sign with the Broncos and opted to join the Houston Texans in free agency instead.

With no starting experience left on the roster, the Broncos tried to trade for Kaepernick who was falling out of favor in San Francisco after declining stats in 2014 and 2015. The compensation of the trade was never revealed, but Denver reportedly asked that the quarterback take a $12.4 million cut in base salary over the 2016 and 2017 seasons, lowering his salary to $7 million in each year.

Kaepernick didn't agree to the offer and instead received $14.3 to be the 49ers' quarterback in 2016.

2. Denver showed zero interest in signing Kaepernick after his release. A year after Kaepernick chose not to take a pay cut to join Denver, the Broncos' quarterback situation wasn't much better. A first-round pick was used on Paxton Lynch, but veteran help was still needed.

But despite being willing to trade resources to acquire the quarterback a year earlier, and despite being able to negotiate a price likely cheaper than the $7 million they wanted to give Kaepernick in 2016, and despite the fact that Kaepernick bounced back with 16 touchdowns and four interceptions in 2016, the Broncos no longer wanted him.

Apparently, according to Elway, Kaepernick's only chance to join the Broncos was to take a pay cut in 2016. When he chose to stay in San Francisco, Kaepernick said no forever.

3. The Broncos welcomed Brock Osweiler back with open arms. That same logic, then, didn't apply to Osweiler, who was once considered the Broncos' quarterback of the future before he shunned Denver and joined the Texans. He literally shunned them.

Evidently, Elway's feelings weren't too hurt because he scooped up Osweiler for a reunion 18 months later when the quarterback became a free agent. The Broncos went 0-4 in the four games Osweiler started in 2017.
What does all of this prove?
The fact that Elway chose to sign a series of sentient garbage cans to play quarterback instead of a former pro-bowl signal caller proves the long-held speculation that GOP donors hate black people. Fine, that isn't true, but there is something to be said about Elway's staunch position on Kaepernick that can easily be tied into his staunch support of Republican candidates, especially since they are the loudest group in the anti-Kaepernick movement.