If you're on this website, I'm going to take it as a given that I don't need to tell you about the relationship between black women and their hair. And I don't mean in a political kind of way. I mean the sense of culture and community that surrounds how we groom our luscious locks, regardless of how we choose to treat or style them. That is whether they're permed, natural, weaved, in dreadlocks or up in box braids.
At any given point you can find a black woman commenting on another black woman's hair.
"I love that style, where did you get your hair done?"
"Where did you buy that hair, girl?"
"What products do you use?"
"How do you get your locs so curly?"
"How many packs of hair did it take to get your braids like that?"
The conversations can be endless. There are countless YouTube channels, blogs, social media pages, etc., dedicated to helping black women find #HairInspo, showing them wash routines and styling techniques and reviewing hair products.
But now there's an app for that. Three black software engineers and entrepreneurs—Cassandra Sarfo, Esther Olatunde and Priscilla Hazel—have created Tress, an app they hope will become the one-stop shop for all your black hair needs, inspirations and appointments.
"We do this all the time: We see a hairstyle that we like. We stop people on the street just to ask them where they did their hair, how much it cost them, or ask them for their stylist's number," Hazel told The Root. "And my mom, she takes pictures of her TV screen and [messages] me and asks me where she can have it done. It's a habit that we have that we do all the time."
G/O Media may get a commission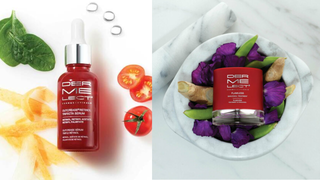 Save $19
Retinol Renewal Kit
So the women put their heads together to come up with a solution for what they saw as an obvious demand, and the app Tress was born. The long-term goal is to make Tress a one-stop shop for all things hair, and for the platform to be a seamless integration between someone seeing a hairstyle and knowing all the products and procedures (and even people!) used to create it.
As it stands now, the search starts on the street or on social media with someone loving a hairstyle. Then maybe they have to search for tutorials on how to style the hair, or where to purchase specific products or extensions. Then it's a matter of, can this be done with your own two hands, or should you put your life in a stylist's hands?
"You're constantly moving from one platform to the other, trying to figure out how to get information on one style you want to get done. So, for us, we thought it'd be cool if we could just build a platform where you can actually come and find hairstyle inspiration, interact with people who post their hairstyle, be able to purchase products for those particular hairstyles and then eventually be able to book stylists all on one platform," Hazel said.
Currently on the app, women can find hair inspo and filter hairstyles by the type they're looking for, or even by cost. Women can also upload and share photos of their own hairstyle, adding whatever information is necessary, and contribute to community discussions about best hair-care practices and other tips. You can see what's trending, and even bookmark hairstyles for later viewing.

The women behind the app hope that within the next six to eight months, users will be able to purchase products through the app directly. A little further into the future, the next priority will be enabling women to book hairstylists.
"We want to be very city-focused. We probably will start in certain cities when it comes to booking, and even maybe purchasing products. But we want people to be in a certain city and see where they can find a stylist to have their hair done through the platform," Hazel explained.
All three women behind the app are currently based in California. However, Sarfo and Hazel are originally from Ghana, while Olatunde hails from Nigeria.
Hazel used to do marketing of consumer products before getting interested in tech. After the field sparked her interest, she quit her job and went to school to learn as much as she could about tech. It was there she met her co-founders, who were already in the space: Sarfo has a degree in information technology, and Olatunde has a degree in computer engineering.
This is the talent that came together and founded Tress.
"We're excited to work on something that affects us, especially as black women," Hazel said.
"Hair is a big deal for us. We have one of the most unique hair types of any demographic. ... It's part of our identities, a part of our culture. It's not a matter of whether you have a lot of hair [or not]," she added. "Hair is important for us. Hair, for black women ... is important to their fashion; it has to do with confidence. It's part of you."
Right now, the free app is available on iOS and Android and has around 100,000 downloads.
In the future, the trio is hoping for much bigger things, wanting "black women's hair" and Tress to become synonymous.
"When you think about hair, you should think about Tress, and when you think about Tress, you think about hair for black women," Hazel said. "It should be synonymous with hair."