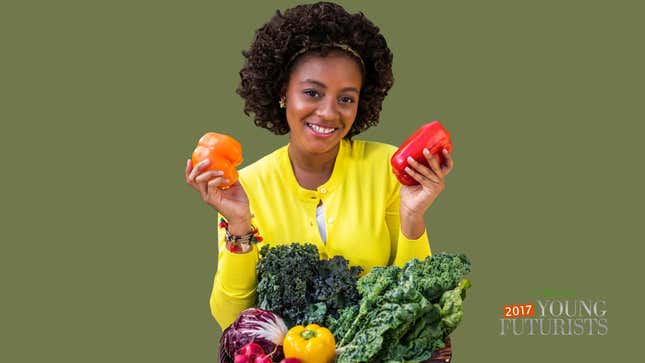 There aren't many kids who can say they've met first lady Michelle Obama once—let alone multiple times. For teen chef Haile Thomas, meeting Obama has only empowered her quest to inspire kids to live healthy lifestyles.

"Getting to interact with her several times over the years sometimes still feels unreal, and I am eternally grateful for those opportunities," Haile told The Root. "To me, she is a shining example of all that is possible. She is a gracious, inspiring, powerful, compassionate, driven and educated black woman, and I strive to be all those things."
CATEGORY: Green Innovation
AGE: 16
HOMETOWN: New Windsor, N.Y.
EDUCATION: Home-schooled, but just graduated from the Institute for Integrative Nutrition
SOCIAL MEDIA: Twitter, Facebook, Instagram, website
While Obama's healthy-eating campaign surely inspired Haile to keep on a healthy track, her desire to maintain a healthy lifestyle started at home. Haile's father was diagnosed with Type 2 diabetes when she was 8 years old. As part of a holistic treatment plan, the whole family started eating healthier and exercising more. Eventually, after a lot of hard work, her dad was cured of diabetes and their commitment to a healthy lifestyle was now more important than ever. So in 2012, with the help of her mom, she launched Healthy Active Positive Purposeful Youth (HAPPY), a nonprofit organization dedicated to educating young people about their health and fighting against childhood obesity, heart disease and diabetes.
"This is the point where I decided I have to stand up for this because I can be the change my parents always told me I could be in the world," she said. "So, I set out on a journey at 10 years old to become a health activist and educator."
In 2016, HAPPY received its first $30,000 in donations, and the organization's nutrition and culinary classes have impacted more than 7,000 kids. Earlier this year, she became the youngest certified health coach in America when she graduated from the Institute for Integrative Nutrition. Soon, HAPPY will be launching a school-nutrition and culinary-education program in which the organization will send boxes of cooking-class supplies to schools. The program is in partnership with Harlem Grown, which will give HAPPY access to six schools in New York. Over the years she's learned how to "health-ify" some Jamaican staples, including jerk chicken and curry goat. Later this year, she plans to visit the island, her parents' native land.
In August 2012, Haile won Arizona's Healthy Lunchtime Challenge for the Kids' State Dinner. The next year, she was one of Michelle Obama's guests at the 2013 State of the Union. She's on the youth advisory board for the Clinton Foundation's Alliance for a Healthier Generation. She has been featured on Rachael vs. Guy: Kids Cook-Off and Cupcake Wars and currently hosts a cooking series on YouTube called Plant Powered Haile.