Updated Friday, Aug. 18, 2017, 2:08 p.m. EDT: Hot on the news that White House chief strategist Steve Bannon has been asked to return his White House lanyard, the Progressive Change Campaign Committee, a grassroots organization that wants to weed out white supremacy in the White House, has concluded that Bannon's ouster is not enough.
The group's ad, which is set to run Saturday, has now been aptly changed to "1 Firing Is Not Enough."
Earlier:

It's a difficult time to be an American. Currently we are all doing our best to avoid the putrid stink coming from the perpetual dumpster fire that is the Trump administration, all while knowing that the White House is full of white supremacists. Well, one grassroots organization has decided that it cannot sit by while the world is burned to the ground by white men carrying tiki torches.

Starting Saturday, the Progressive Change Campaign Committee will air a scathing ad calling for Trump to fire known white supremacists Steve Bannon, Sebastian Gorka and Stephen Miller. And because the president is a lazy thot who can't stay at home, the ad will run throughout the weekend in Washington, D.C., and Bedminster, N.J., the president's current hiding place.
Just in case the president doesn't catch the ad on CNN and MSNBC (networks that the president claims not to watch but totally does because his tweets about the programming have proved him to be a liar), the organization has purchased slots on Fox.
G/O Media may get a commission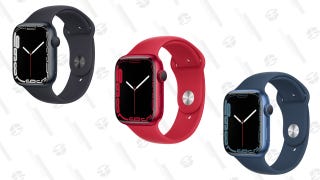 Up To $45 Off
Apple Watch Series 7
"White supremacy is embedded within our society—from the corridors of power in the White House to Wall Street banks that reinforce a rigged system to the everyday experiences of people of color," Progressive Change Campaign Committee co-founder Adam Green said in a statement. "As Americans work together to address longer-term systemic issues, our new ad make clear that one firing is not enough: Donald Trump must fire Steve Bannon, Sebastian Gorka, Stephen Miller, and all the other white supremacists in the Trump Administration."
Hopefully, once he's fired Bannon, Gorka and Miller, he'll resign. Well, we can still dream. Watch the ad below.