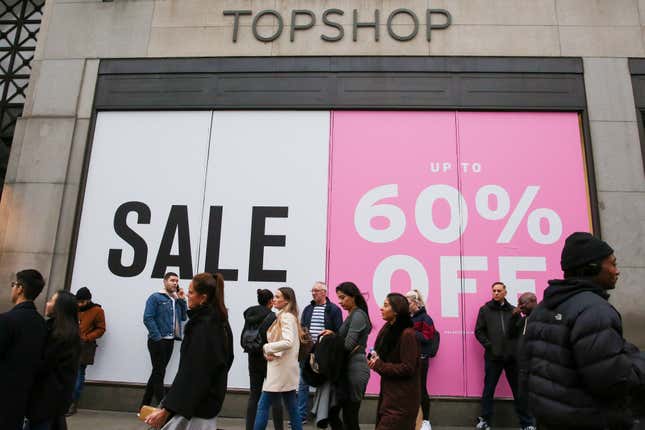 By now, we're all well-acquainted with the power of the Fenty Effect, but did the Beyoncé backlash contribute to the closing of Topshop's U.S. stores?
My Hip-Hop Story: Cedric The Entertainer On Jay-Z and His Indisputable Role In Shaping The Genre's Culture
On Thursday, the beleaguered U.K.-based brand announced that after a decade in the U.S., it would be shuttering all 11 of its American retail locations. The move comes amid a bankruptcy filing in New York, first reported by the Wall Street Journal, and the late 2018 loss of its biggest celebrity collaborator (no shade, Kate Moss), after Beyoncé reclaimed her time Ivy Park ownership in full, later announcing plans to relaunch the activewear line with Adidas.
Business Insider reports that Ian Grabiner, CEO of Arcadia Group, which owns Topshop and is undergoing a "restructuring," said the closings were a "tough but necessary decision for the business." In a statement, Grabiner cited "the challenging retail environment, changing consumer habits, and increased online competition as being the main reasons for its current woes."
Conspicuously absent from that list are the misconduct allegations against Arcadia chairman and owner Sir Philip Green, who has faced "multiple accusations of sexual harassment, racially based abuse, bullying, and misuse of non-disclosure agreements to hide his misdeeds," leading to boycotts of the brands, as we reported in November. After mid-May reports that Green's fortune had declined by half, nixing his billionaire status (h/t the Guardian), it seems, as aptly noted by Business Insider, "Time's up on Philip Green's US fashion empire."
According to the BBC, Green has also reportedly been ordered by British Parliament's Work and Pension Committee to reconcile a shortfall in the company's pension fund, which Arcadia has already proposed halving as part of its restructuring plan. Approximately 520 jobs are also at risk, though the Guardian reports that number could be as high as the entire 19,000 people employed by Arcadia, should restructuring efforts fail.
The closing of Topshop's 11 U.S. locations—which include stores in New York City, Los Angeles, Miami and Chicago—comprise approximately half of 23 store closings worldwide. For Topshop/Topman devotees, an Arcadia spokesperson assured Business Insider both will still be available online and through existing partners like Nordstrom.
Meanwhile, somewhere Beyoncé's likely humming "I ain't thinking 'bout you ..."