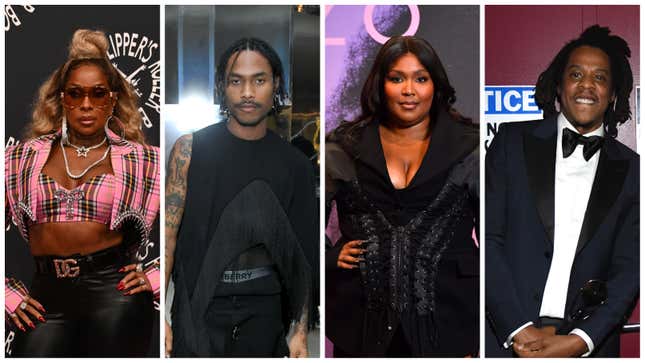 Whether you can believe it or not, the 2023 Grammys are less than two weeks away! Ahead of music's biggest night, we now know the first set of performers who are expected to take the stage. According to Variety, those include folks like Mary J. Blige, Steve Lacy, Lizzo and one other rapper who just might be making his grand return—Jay-Z.
Per HipHopDX, there are rumblings of the 4:44 rapper making an appearance in the Grammy stage, possibly alongside DJ Khaled to perform his acclaimed verse on the chart-topping hit "God Did." If he does show up, this will mark his first appearance at the event since famously calling out the Recording Academy for failing to award him with any recognition after being nominated in eight categories at the 2018 Grammys. (If I'm being completely honest here, I'd be happy to see Jay, but I'd be happier to see his wife and eldest child because...duh.)
Regardless, if these are the names we're to go off of as of now, we here at The Root thought it'd be fun to share our dream setlist for each artist, because let's face it: award shows can be long and a bore to endure if the entertainment isn't up to par. So without further ado, here are the four songs we're hoping to sing and rap to come next month (y'all know they don't give them much time, so we're trying to hit the good ones):
For Mary J. Blige: "Good Morning Gorgeous," "Family Affair," "Happy," and "I Can Love You." (I'll be screaming "Go Mary!" the entire time for most of this set, FYI.)
For Steve Lacy: "Sunshine," "Bad Habit," "Mercury," and "Static." Honestly, he could perform the entirety of Gemini Rights and I wouldn't be mad.
For Lizzo: "About Damn Time," "Good As Hell," "Truth Hurts," and "Rumors." Like Steve, Lizzo could just perform everything and I'd have a good time.)
For Jay-Z: "God Did," "Dead Presidents II," "Hard Knock Life," and "4:44." If Bey shows up, then they have to add either "Apeshit" or "Nice." I don't make the rules.
What performers and songs do you want to see? Let us know in the comments!
The 65th Annual Grammy Awards air live Sunday, Feb. 5 at 8 p.m. ET on CBS and Paramount+.