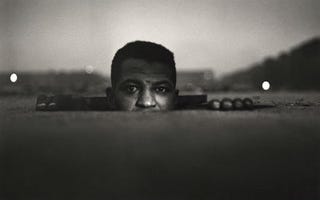 Gordon Parks — the prolific photographer, filmmaker, composer and writer who died at age 93 in 2006 — would have turned 100 this November. To commemorate his life and artistic achievements, the International Center of Photography in New York City is displaying more than 50 of Park's most memorable pieces in its newest exhibit, "Gordon Parks: 100 Years," which includes Emerging Man, a 20-by-13-foot photo mural set in 1952 Harlem.
Parks' other photographs documented the civil rights era and America's struggles with racism, urban and rural poverty and politics.
For more than 20 years, Parks worked at the photo desk of Life magazine, where he snapped timeless images of the segregated South, gangs in Harlem and iconic personalities including Malcolm X, Martin Luther King Jr. and the Black Panthers. His works remain significant social statements, and the Gordon Parks Foundation and photography institutions across the country, including ICP, work to preserve his legacy and immense talent.
"Gordon Parks: 100 Years" will be at New York's ICP (1133 Avenue of the Americas) until Jan. 6, 2013. 
Previous recommendation: New Book Talks Race in World War II Battle.
Got ideas for The Root Recommends? Send them to recommendations@theroot.com.