The 2011-2012 NBA season is finally under way after a protracted off-season caused by a dispute over income and an owner-enforced lockout, and I couldn't be happier. Kevin Durant is hitting game-winning three-pointers at the buzzer, Dwyane Wade and LeBron James are flying high and Chris Paul has made the Los Angeles Clippers relevant for the first time since … ever. The reigning champion Dallas Mavericks are struggling, Kobe Bryant and the Los Angeles Lakers are trying to find an identity under their new head coach and Shaquille O'Neal is acting a fool with Charles Barkley and crew in the TNT booth. The NBA is back.
Justice Smith Talks New Dungeons & Dragons Movie, The Get Down On That's So Random
However, more compelling than any of those stories, for me at least, is the excitement that comes from a singular name: Metta World Peace. For many, he is better known as L.A. Lakers power forward Ron Artest, but this season marks the first time he will be called by his new name, to which he legally changed over the summer: Metta World Peace. His new jersey, where a player's last name is displayed, now says, "World Peace." This is one of the most brilliant moves in sports from one seemingly unlikely source.
At first glance, "Metta World Peace" conjures images of Vince McMahon's ill-fated XFL, where players could choose their own names to put on the backs of their jerseys. "He Hate Me" was the most popular among them. Artest's decision rests in a different history.
A professional athlete changing his name isn't anything new. We don't trip on Kareem Abdul-Jabbar (Lew Alcindor) or Muhammad Ali (Cassius Clay) for changing their names, because we recognize that doing so was both a religious and political move. They were embracing Islam and aligning themselves with the black power movement of the time. Artest's change is more in line with former NBA player World B. Free, otherwise known as Lloyd Bernard Free, who legally changed his first name to "World" in 1981.
G/O Media may get a commission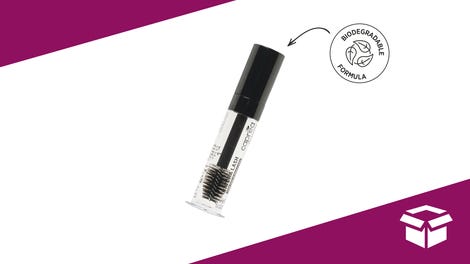 It's $8
20% Off Lash + Eyebrow Serum 2.0 - Caprea Beauty
More recently, however, the most famous athlete name change came in the form of NFL star Chad Ochocinco, formerly Chad Johnson, who changed his last name to a Spanish translation of his jersey number, though he failed to do so correctly. It's silly, it's trite, it's rather insulting to the Spanish language and it lacks any of the political and social punch of Abdul-Jabbar or Ali. The name change runs the risk of being a self-promotional gimmick at this point.
It would be easy to lump Metta World Peace in with Ochocinco or to dismiss this name change as just another "crazy" Artest stunt in a long history of crazy Artest stunts. He has quite a few. There is rarely a dull moment in an Artest interview, as exemplified recently when he answered a reporter's question about why the rookies call him Metta while the older players still call him Ron by thanking Jesus Christ for the fact that he doesn't still have baby teeth.
"World Peace" isn't a specific political goal, and it's not a term that's easily defined. It looks different for a whole array of people with varying ideologies. As the Occupy movement has shown, however, getting people to think about abstract concepts and engage in honest dialogue about how to turn them into concrete directives has legitimate power.
In his way, Artest — nay, World Peace — is placing the idea of world peace at the forefront of people's minds. Now, every night the Lakers take the floor, an announcer will boom, "At forward, Metta World Peace." Fans will chant for "World Peace" and wear jerseys bearing the name at bars and school campuses. Sports radio will be assigned the task of analyzing the statistics and performance of "World Peace."
It's a welcome change of pace, particularly in a sports-journalism world that favors war metaphors, where every player is a general or soldier, where every court is a battlefield and every game a declaration of war. This violent imagery does well to excite readers, get the testosterone flowing and adrenaline pumping, but it overstates the importance of these otherwise inconsequential games — not to mention dilutes the understanding of just how destructive actual war is. No, it won't appear in every sports story written, but forcing writers to have to stop and spell out "World Peace" in the midst of all the epic war reports is a victory in its own right.
Hearing play-by-play announcer Kevin Harlan enthusiastically pronounce every syllable of "Metta … World … Peace!" as World Peace drove to the basket for an insane dunk against the Utah Jazz during a game last week was worth the price of admission alone.
Even if it is said mockingly — and it will be for a while — the jokes will eventually wear thin and we will be left repeating "Metta World Peace." This is all a part of the evolution of a man who used to drink Hennessy in the locker room at halftime and is responsible for the biggest on-court fight (which stretched into the stands among the fans) in the history of the NBA. He was also charged in a domestic-violence incident. His past is tarred; he is an imperfect role model. But he's growing.
Is he still the guy who prompted TNT's Craig Sager to shout out "Queensbridge" (the New York City housing project where Artest grew up) in a postgame interview? Yes, but he's also the man who auctioned off his championship ring to raise money to donate to schools for increased mental-health services. He's the man who gave $285,000 to mental-health charities and testified before Congress in support of mental-health legislation. And now he's the man who wants us all to consider giving world peace a chance.
It's so crazy, it just might work.
Mychal Denzel Smith is a writer, social commentator and mental-health advocate. Follow him on Twitter.