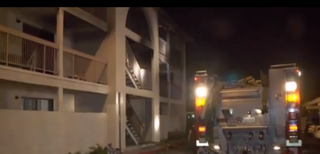 A Sunday-morning fire at an apartment building in Phoenix has killed a 14-year-old girl and left her mother and three siblings in critical condition, the Associated Press reports.
Firefighters were dealing with an early-morning blaze in a second-floor unit of a west Phoenix apartment building when five people were found unconscious.
"What [one firefighter] found was five family members—a 33-year-old mother and her four children—inside of [a] bedroom. All of them were unconscious," Officer James Holmes, a Phoenix Police Department spokesman, told the AP.
Authorities said that the fire could have been deliberately set and might have been related to domestic violence. Holmes told the AP that a person of interest had been detained.
Holmes said the woman and a 10-year-old were hospitalized in critical condition. The youngest children, a 3-year-old and a 3-month-old, were in extremely critical but stable condition.
The fire displaced nearly 30 residents of the building. One resident told the AP that she had never seen any violence between the mother and a man who the resident said was the woman's live-in boyfriend.
Read more at the Associated Press.