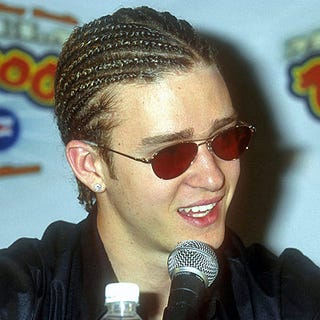 Amid the chaos and kerfuffle, a delightful gem from the AP:
Police in Philadelphia say a white officer who came to work with cornrows was ordered by a black superior to get a haircut because the braids violated department standards.

The Philadelphia Daily News reported Monday that Officer Thomas Strain was put on desk duty this month because of the braids, even though the paper reported dozens of black officers wear cornrows.

Police spokesman Lt. Frank Vanore says Strain's boss told the officer to cut his hair to look more "professional."

Vanore says officers' hats must fit "in a military manner" over their hair, and that Strain's hat did not. Strain got a haircut; he declined comment to the paper.

Vanore recalled only one black officer with braids in the past several years. He says that officer also was told to get a haircut.
Now, if it's true that other officers are rockin' cornrows on the job—which is wack anyway—then this is kinda messed up. If not, it's basically hilarious. Actually, it's pretty hilarious either way you slice it.