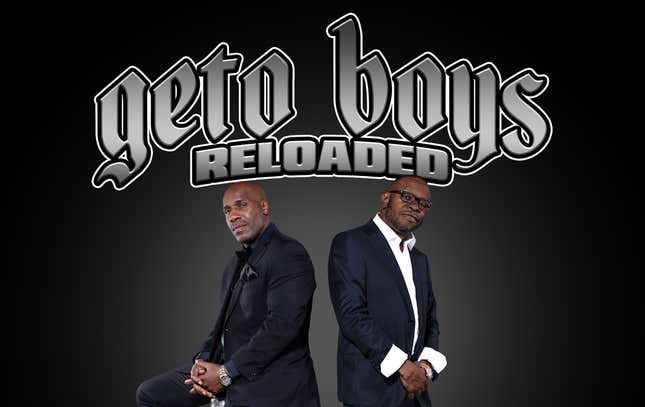 Originally formed in 1987 by the godfather of Houston rap, J. Prince, the Geto Boys would reach unprecedented heights with vivid tales of murder and mayhem sprinkled with a political perspective that spoke for the Houston streets with no voice of their own. As one of the most influential groups in the history of rap music, the DNA of their classic lineup of Scarface, Willie D, and the late Bushwick Bill can be found in artists like Outkast, Jay-Z, Rick Ross, and countless others. And after rocking the mic for 30 years, and with Bushwick Bill no longer in the fold, Scarface and Willie D have revamped their brand into a podcast that's just as insightful and thought-provoking as their music is.

Chuck D's Fight The Power: How Hip Hop Changed The World Is Our TV Pick
Geto Boys Reloaded is the latest weapon in Charlamagne Tha God's The Black Effect Podcast Network's impressive arsenal. As a joint venture with iHeartMedia, The Black Effect Podcast Network boasts not only a collection of some of the biggest names in podcasting—Erika Alexander's Reparations: The Big Payback and Troy Millings and Rashad Bilal's prolific Earn Your Leisure just to name a few—but the secret sauce to its success is that it's ran almost entirely by Black women; with Dollie S. Bishop, head of production and creative development, overseeing its creative vision.
What makes Geto Boys Reloaded unique is that in a market oversaturated with gimmicky takes and blatant mimicry, its hosts boast a universal level of reverence that allows them to engage in conversations with other legends that would otherwise never take place. Case in point, in their first episode, they chop it up with the man who changed their lives forever, J. Prince. And over the course of 50 minutes, they reveal how the podcast came into fruition, misconceptions about the Rap-a-Lot founder, an attempt made on his life, and how the group was discovered. There's also a touching moment where Prince reveals the women who have had the most profound impact on the man he is today.
"I would have to say it begun with my mother," he begins. "That was my hero. I watched her, I watched her struggles. I watched her movements and I was influenced by them."
Another woman who left an indelible mark on his life was his grandmother.
"The same thing," he adds. "The work ethic, the struggles, the trials [and] the tribulations inspired me as a youth. [...] My eyes laid on my mother and grandmother first, and from there I was willing to risk my life for that. For them to have what they wanted."
In future episodes, The Geto Boys will be joined by Slim Thug, 2Chainz, comedian Mark Curry of Hangin' With Mr. Cooper fame, and Dr. Boyce Watkins. And if the premiere episode is any indication of what's to come, The Black Effect Podcast Network undoubtedly has another hit on its hands.
"The primary goal of the podcast is to inform and instruct," Willie D told The Root. "Akin to the music we've done throughout our career."
"If you loved the content of our music then you're going to love the podcast," Scarface told The Root.
Geto Boys Reloaded premieres on July 5. But if you can't hold out that long, treat yourself to a taste of what's to come below.