One Arizona teen received, quite literally, a shock after his mother allegedly woke him up for Easter church service using a stun gun.
ABC News reports that Sharron Dobbins, 40, was arrested after she "contact-tased her teenage son in the leg" in order to wake him up, Phoenix police said.
The overzealous mother unabashedly admits that she was holding a Taser and flashing its lights, although she denies using the weapon on her son.
"I said, 'Get up! It's Jesus' day!'" Dobbins told ABC affiliate KNXV-TV. "I made the noise with the Taser, but I did not tase my son."
However, Phoenix police said that they found two marks on the teen's leg when they took Dobbins into custody.
G/O Media may get a commission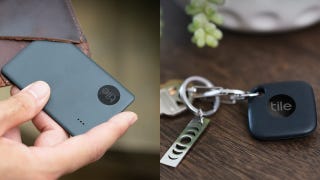 Up to 35% off
Tile Item Trackers
"He was like, 'Mom, I'm calling the police.' I said, 'You can call the police, UPS, DPS, whoever you want to call,'" Dobbins told KNXV. "Police were on the phone, and I told the dispatcher, I told her, 'You need to be with Jesus right now.'"
Instead of going to church with her son as planned, Dobbins spent 12 hours in jail.
"Nobody writes a book on the correct way of parenting," she said. Her son, in the meantime, has been removed from the home and is staying with relatives.
"I don't think I did anything wrong because you're supposed to put God first, and that's all I was trying to do is tell my kids to put God first," the mother added.