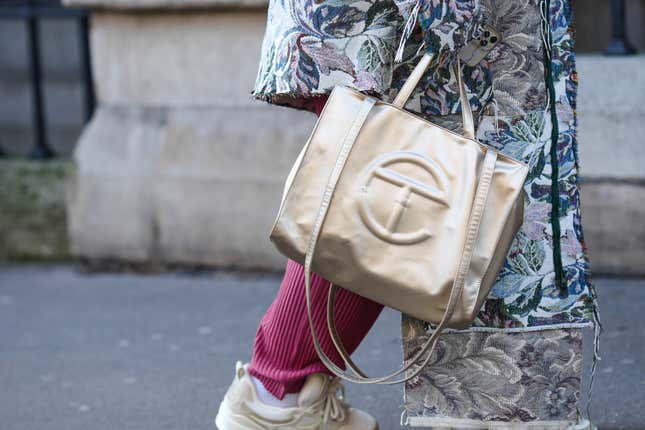 Telfar fans, we've got some good news and some bad news. Let's start with the good news: The brand, otherwise known as the "Bushwick Birkin," is preparing to drop the fifth edition of its Bag Security Program. Between June 16 and 18, the popular handbag brand is giving shoppers a chance to pre-order any bag in the color and size of their choice. Now for the bad news: The brand says this fifth edition of the program that allows you to preorder the bag of your dreams will be the last. I know, I'm sad too.
Telfar has always done things differently. The brand launched its Bag Security Program in 2020 as a way to sidestep bots and resellers and make it easier for shoppers to get their bags without worrying that it would sell out.
For the brand founded by NYC-based designer Telfar Clemens, this latest move is just another example of how the company continues to march to the beat of its own drum. "Bag security changed our lives and changed fashion … and we were able to leave the fashion system. We literally do exactly what we want as a company. That's exactly what we are doing by moving on from it, too," Clemens said in a statement.

Going forward, Telfar says it will rely less on social media-driven marketing strategies in favor of their streaming platform TelfarTV and brick-and-mortar stores they plan to launch in 2024.
Although news of the end of the program is going away is sad, there is a bright side. Telfar says the fulfillment will be faster than ever on items purchased during their farewell pre-sale. All bags are guaranteed to ship between June 26 and August 31.
Keep in mind, you will have to pay for your bag in full at the time of purchase. And Telfar put a big fat no on any returns, exchanges, or refunds. So you'd better be sure before you shop.