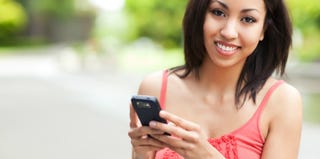 (The Root) — If my Instagram feed is any indication, there are a lot of would-be amateur photographers out there. So you might as well take advantage of an opportunity to get something more than just a "Like" for your effort.
The Foap app was developed by Swedish-based travel professionals who were looking for a better way to find stock photography. They've used the idea of crowdsourcing to create a community of photographers. The company sells the photos for $10 each, which is split between you and the developers, so you net $5 per picture.
Here's how it works: After you download the app, you can immediately start uploading and tagging photos for review. You have to review at least five other photos before your pictures can be accepted, and your own photos have to have an average review rating of at least 2.5 (on a scale of 1 to 5) for them to be placed in their market. The terms and conditions for photo type and acceptance are listed here.
As with any type of stock photography, there's no guarantee that someone will want to buy your photo. But this is still an easy way to get in on that industry, and you never know, right? Foap has also just launched a referral program where you can make 10 percent commission from any photos of a friend you invite to join. It may not sound like much, but it could definitely add up. The Foap app is free but currently available only for the iPhone.
Follow tech-life expert Stephanie Humphrey on Twitter.