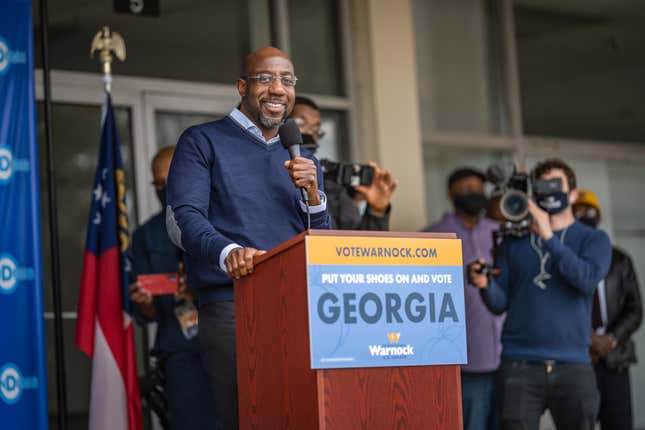 Updated as of 11/23/2022 at 9:30 a.m. ET

It's a win for Georgia Democrats this week as a Fulton County judge ruled on Friday that early voting in the state's runoff elections could, in fact, take place the Saturday after Thanksgiving. This comes after arguments made that such an action was barred under state law.
Cheat Sheet: What is Gerrymandering?
Since the ruling was handled down, three Republican groups based in Georgia have filed an appeal to the state's highest court to stop Saturday voting from happening, as noted by CNN. The groups are asking the Georgia Supreme Court to issue an emergency stay of a lower court ruling that said Georgia law does allow voting this Saturday. The Warnock campaign and Democratic groups until 9 a.m. Wednesday to file a response.
A 2016 state law—which prohibits early voting on the second Saturday before a runoff election if that day falls one or two days after a federal holiday—was argued by Georgia Democrats to disenfranchise voters who cannot participate in early voting during weekday hours. This population, which is largely made up of students, low-income voters, and people of color, tends to vote Democratic.

Republican committees are arguing in their appeal that only ten counties – "all of them Democratic-leaning" – plan to conduct early voting that day. They believe this would somehow be "eviscerating the statutorily required uniformity among Georgia's counties."
According to the New York Times, Judge Thomas A. Cox of the Superior Court of Fulton County issued a 10-page order which ruled that the law did not specifically apply to runoff elections and that Saturday voting should be considered "an essential component" of the election process. This is especially true considering the window for runoff elections in Georgia is not shorter under the major voting law that the Republicans passed last year. The runoff this year will be held on December 6th.

Furthermore, Judge Cox ruled that without Saturday voting, Democratic groups and their constituents would "suffer immediate and irreparable harm." The Republican appeal is claiming Judge Cox's interpretation of the law is wrong, and the runoff election set for Dec. 6 is clearly a continuation of the Nov. 8 general election.
While Secretary of State Brad Raffensperger, a Republican, initially stated that Saturday voting would be possible during the runoff, lawyers in his office said that it would conflict with the upcoming holiday weekend. The office also noted that the Saturday after Thanksgiving would fall one day after the state holiday that once celebrated the birthday of the defamed Confederate general, Robert E. Lee.

On Tuesday, however, several Democratic groups, including Senator Raphael Warnock, sued to retain Saturday voting, stating the office had interpreted the law too narrowly, and that stripping poll access in this way would disenfranchise voters that most often support the Democratic party.

During a news conference on Tuesday, Warnock doubled down in his support for the lawsuit, also persuading county election officials to expand their voting hours.

As the celebratory news was released on Friday, the Democratic Senatorial Campaign Committee, the Democratic Party of Georgia, and Mr. Warnock's campaign called the judge's ruling "a win for every Georgia voter, but especially for workers and students who will have a greater opportunity to make their voices heard in this election."

They continued in their statement by saying, "We look forward to counties announcing that they will provide Georgians the opportunity to cast their ballots on Saturday, November 26th."