Less than a decade after formally launching his design career, Virgil Abloh has experienced unparalleled success in the fashion industry, let alone as a black designer. After launching streetwear label Off-White in 2013—an instant cult favorite that has since gone mainstream—Abloh's seeming ability to set the pace of fashion's pulse catapulted him to award-winning fame—and, last year, to the helm of Louis Vuitton menswear.
But mo' cred means mo' problems, and one of Abloh's most public problems has come in the form of Instagram-famous fashion watchdogs Diet Prada, who have repeatedly called out the designer and architect for copying the designs of others. Whether his highly-anticipated collection for Ikea or his Fall 2019 presentation for Off-White, a series of damning side-by-sides have caused several to question the source of Abloh's genius, and wonder if it wouldn't just be simpler to cite his inspirations.
The issue most recently came to a head in January, when Abloh was accused of directly ripping the designs of lesser-known labels Gramm and Colrs, helmed by young black designer Punk Zec. Called out by both Diet Prada and Punk Zec's mother, industry insider Michelle Elie, even those of us who'd previously lauded the designer were forced to pause and raise our (well-groomed) eyebrows.
G/O Media may get a commission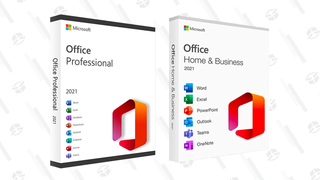 89% off
Microsoft Office Professional 2021 Lifetime License
In an article published Monday in the New Yorker, writer Doreen St. Felix broached the issue in an interview with Abloh. Readers were reminded that Abloh has always been relatively open about outsourcing his inspiration, referring to them as his "cheat codes" in a lecture at Harvard, and comparing his process to both DJ-ing (another of his known creative talents) and those of acclaimed artists like Marcel Duchamp and Andy Warhol.
Abloh's "cheat codes" include what he calls the "three-per-cent approach"—the idea that one might create a new design by changing an original by three per cent. His most recognizable gesture is the addition of a phrase in quotation marks, which appears to convey irony. ... His work is often referential, and some critics have accused him of "stealing" designs. But Abloh sees it as rooted in the ethos of streetwear, which, to him, does not necessarily mean T-shirts, hoodies, and sneakers. "Streetwear in my mind is linked to Duchamp," he told me. "It's this idea of the readymade. I'm talking Lower East Side, New York. It's like hip-hop. It's sampling. I take James Brown, I chop it up, I make a new song. ... . It's streetwear 10.0—the logic that you can reference an object or reference a brand or reference something. It's Warhol—Marilyn Monroe or Campbell's soup cans."
But what of the seemingly Basquiat-inspired yellow streetwear design that appears to be a direct rip from Colrs' collection, which debuted in Lagos mere months before Off-White's? Of what he called "basically the use of a yellow fabric with a pattern on it," Alboh told St. Felix he'd never seen the Colrs design prior to designing his version, and that Diet Prada had ignored the possibility of coincidence.
"Ring the alarm!" he scoffed.
And of Diet Prada itself, which has repeatedly called out the creative force—among others—for perhaps not being so... creative, after all?
"All props to them, that's a great concept," Abloh said, before writing off that same concept as "negative energy."
"I could go on for a whole hour about the human condition and the magnet that is negativity. That's why the world is actually like it is. That's why good doesn't prevail, because there's more negative energy," he said. "You can create more connective tissue around the idea that this is plagiarized. It's better just to sit and point your finger. That's what social media can be. All that space to comment breeds a tendency to fester, versus actually making something ... It allows you to package up this thing as: 'You're not a designer. Close the book.'"
As W magazine noted, the rant sounded a bit "Kanye-lite," but one subject where Abloh will allow absolutely no negativity is on his relationship with collaborator and friend West, denying there's any competition between the two, and speculating that any reports to the contrary are racially-motivated.
"Like, 'Oh, these two creative black guys, we're going to pit them together and put at least one down. So now we have this one until further notice,'" Abloh said. "I'm his assistant to this day. We have the both of us."