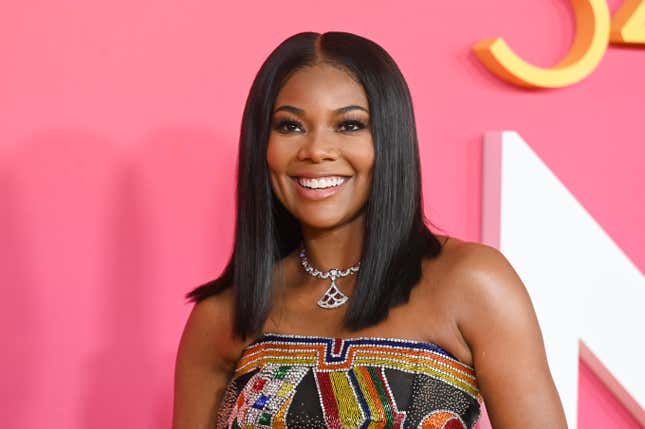 Actress Gabrielle Union got folks talking after she posted a video on Instagram last week promoting her Flawless by Gabrielle Union line of hair products.
In the clip, Union starts with her hair after taking out braids and is shown going through a three-step treatment with the 5 Butter Miracle Masque, 5 Butter Leave-In Conditioner and Scalp Soothing Tonic from her Flawless line. There is even an adorable moment of the actress and 4-year-old daughter Kaavia James. "Look at your curls!" Kaavia says as she smiles and runs her fingers through her mom's hair.
Some offered encouraging words, glad to see the "Bring it On" actress showing off her hair in its natural state, grays and all. "Love your natural hair, and you have the same struggles as us 'non-celebrities'!! Thanks for sharing and being REAL!!!" wrote one user. "No filter, no makeup- STILL gorgeous! I'm grateful you at least have grays…I'm 9 years younger than you, and you LOOK 20 years younger than me!" wrote another.
But the internet wouldn't be the internet without at least a few negative comments. And folks did not waste time coming for the condition of Union's natural hair calling it dry and unhealthy. Some even suggesting that seeing her hair made them want to steer clear of anything in the Flawless line. Like one user who wrote, "Gabby's hair does not look healthy, and if that is indicative of her products, then she can miss me." And there's this one, "This video doesn't exactly make me want to rush and buy those products."
The negative comments sparked a heated social media debate with fans coming to her defense. One user suggesting the condition of Union's hair could be due to menopause, as hormonal fluctuations can change the texture of a woman's hair. "For those of you who don't get it, she's 50 and probably going through menopause, her hair is gonna take a beating during this time. Idc what products she uses, how much money she has or about her doing the big chop, until he body completes this life cycle the hair is gonna be different and a challenge. Some of you younger women should take note your time is coming. If you're lucky 🤷🏾‍♀️"
And others just wanted to shut the haters down. "Anyone wearing a FULL WEAVE in their profile pic cannot offer her advice," one wrote.
I think we can all agree that Union is far from red carpet ready in her video. But as a woman with more than a few gray hairs who is knocking on the door of menopause, I give her plenty of props for being this vulnerable in front of her over 21 million Instagram followers.
Out of all of the comments, this one sums it up best for me:
"I came to the comments to say how much I loved the video and her transparency and got hit in the face with all this ugliness. It really is sad. I'm loving her for being so real. Most celebrities wouldn't dare let you see them without all the bells and whistles that make them so attractive. I'm loving this and I'm here for it!"