Four years ago a petite, timid Gabby Douglas made her national media debut in front of hundreds of reporters at the Olympic Media Summit. At the time, she was unknown to everyone except gymnastics insiders, but that changed when, two months later, she captured the all-around gold medal at the 2012 London Olympic Games. 
"Before, it would be like, 'Gabby Douglas,' and it would be like crickets," said Douglas, who just captured the American Cup all-around title two weeks ago. "And now when they say 'Gabby Douglas,' the whole stadium lights up."
She returned to the same media summit last week—this time five months before the 2016 Olympic Games in Rio de Janeiro. Just like the crowds at her meets, things have changed.  
She's 3.5 inches taller. 
She answers the probing questions of dozens of journalists with confidence.
She will soon star in her own reality-television show, Douglas Family Gold, premiering May 25 on the Oxygen network. 
G/O Media may get a commission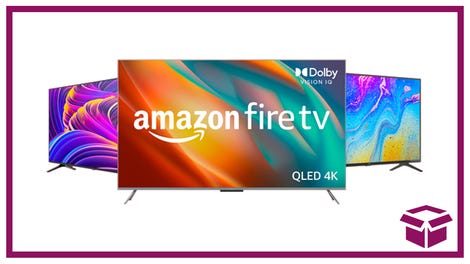 Ooh. stunning.
New Amazon Fire TVs
Now she wants to be the first gymnast to successfully defend the gymnastics all-around title at the Olympic games. 
"My body feels good," Douglas, 20, said. "My mind is stronger, so I'm just like, 'Why not give it a chance?'"
But the biggest barrier to that goal is another black gymnast, one from Spring, Texas—19-year-old Simone Biles. Her earliest memory of gymnastics is flipping off a swing set when she was 5 years old, and landing on her face.  
Those days are long gone. The 4-foot-8-inch Biles is the most decorated elite gymnast in American history. She has amassed three world gymnastics all-around titles and 14 world-championship medals in just three years. 
"Never in a million years would I think that I would come this far," Biles said. "One of my dreams was just to do college gymnastics, and then I ended up in the elite world." 
She's a true all-arounder, having collected world-championship medals in every discipline—beam, uneven bars, vault and floor exercise. But she dominates on the floor exercise. It's there where she out-flips and out-twists her competition while dancing to crowd-pleasing music. For the Rio de Janeiro Olympics, she's planning to add Brazilian music to her routine in an effort to get the crowd on her side. Since last fall, Biles has trained at a 50,000-square-foot gym near Houston that her parents built—the aptly named World Champions Centre. 
Douglas finished second to Biles in the 2015 World Gymnastics Championships all-around. During the 2012 Games, Biles watched Douglas win the Olympic gold medal on a large screen at Bannon's gymnastics gym in Houston. 
"It was just amazing sitting there and watching Gabby and the Fierce Five win it," Biles said.  
She didn't think that, four years later, she would be competing against her at the Olympic games. Douglas first met Biles at the gymnastics American Cup three years ago when Biles made her debut at the senior level in gymnastics. At the time, Douglas was still enjoying a two-year hiatus from the sport, during which she released a book and a Lifetime movie about her life. Now the Olympic champion knows Biles very well, having attended several national-team camps with her and competed against her at the national and world championships. 
Fortunately, there is no animosity between the two champions—just plain ol' competition.
"To me, Simone is very calm, and I try to feed off that," Douglas said. "She is also very hungry to be on top of the podium, and I think we all are."
"We're like sisters," Biles added. 
These "sisters" are also happy to be role models for black girls who want to be gymnastics champions. 
"I think it's amazing because a lot of little girls don't think they can do it, but if they see me and Gabby, it gives them that little bit of hope that I think we had when we were younger," Douglas said. 
Douglas said she's already seeing the results of their influence. 
"It's a predominantly white sport, and now that I see more African Americans getting into the sport, I love it," Douglas said.  
Kiratiana Freelon is a Rio de Janeiro-based multimedia journalist whose work focuses on social issues, international news and sporting events. She has published two books: one a travel guide to black Paris, and the other a travel guide to multicultural London. Visit her blog and follow her on Twitter.