Two Georgia brothers pleaded guilty to a brutal attack on their parents late Monday afternoon, expressing remorse for their actions even as they were sentenced to 20 years in prison, the Atlanta Journal-Constitution reports.
Christopher Ervin, the older brother, told the court and everyone in it that he had been in a bad place at the time of the 2015 attack and that for several years prior had been addicted to drugs and alcohol, according to the report.
His younger brother, Cameron, also expressed remorse and said that he wanted to now spend the rest of his life "showing God how grateful I am that he spared [his parents]."
Both brothers were accused of serving their parents Xanax-spiked cocktails on Sept. 5, 2015, when Cameron was 17 and Christopher was 22. The duo then waited for their parents to fall asleep before cutting a gas line and attempting to blow up the house before they went back in and beat their mother, Yvonne, with a rifle and stabbed their father, Zachary, more than 10 times, police believe.
Yvonne Ervin was somehow able to call 911 and get her sons arrested.
Despite the horrors the parents went through, both went on to advocate for their sons, pleading for them to get 10 years in prison, the lightest-possible sentence for their hefty crimes. Prosecutors were pushing for 30 years in prison.
G/O Media may get a commission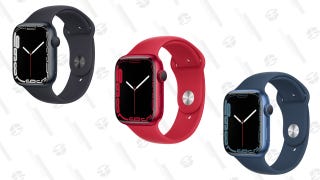 Up To $45 Off
Apple Watch Series 7
By the end of the hearing, the brothers had pleaded guilty to all 13 charges against them—including kidnapping, aggravated assault and armed robbery—and the judge decided to sentence them to 20 years in prison, with 30 years of probation after that.
Read more at the Atlanta Journal-Constitution.