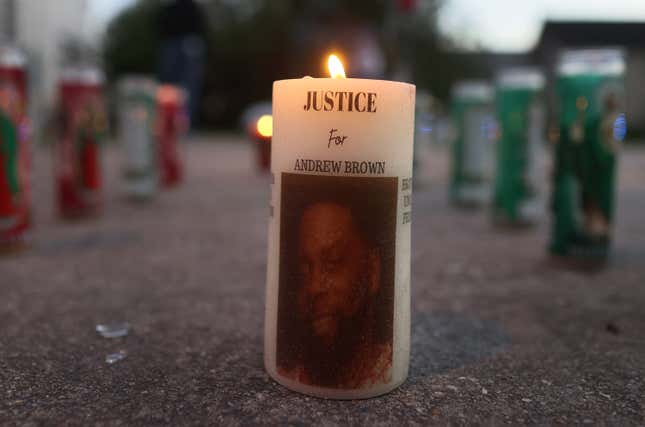 It feels like we've been trapped in a never-ending cycle of grief. Even as we felt palpable relief seeing Derek Chauvin be found guilty for the murder of George Floyd, we were immediately reminded that the cycle of police violence doesn't take a break. Andrew Brown Jr. was shot and killed by police officers in North Carolina last month and on Monday mourners gathered at his funeral to celebrate his life.

According to the Washington Post, the invite-only funeral was held at the Fountain of Life Church in North Carolina and attended by the likes of civil rights attorney Benjamin Crump, head of the Poor People's Campaign, Rev. William Barber II, and Rev. Al Sharpton, who delivered the eulogy for Brown. Brown was fatally shot only one day after Chauvin was found guilty. He was shot and killed at his home by Pasquotank County sheriff's deputies who were delivering a search and arrest warrant for felony drug charges.
"Before we could get through one 24-hour cycle after the conviction of Derek Chauvin for the lynching by knee of George Floyd, a policeman killed Andrew Brown Jr.—a day that we were getting ready to go to the wake of Daunte Wright," Sharpton said during his eulogy. "From Daunte Wright to Andrew Brown to Breonna Taylor to Ahmaud Arbery to Rayshard Brooks to George Floyd—all of this happening during a pandemic. All within a year. And you want to talk about everything other than what the times demand we talk about."

Now because people are awful and don't believe in the basic preservation of life, Brown's criminal background has been cited as a potential reason for his death. It's the "he was no angel" line of reasoning the allegedly pro-life crowd like to wheel out whenever a Black person is killed by the police. While Brown had been convicted on 12 felony drug charges, 12 charges of driving with a revoked license, and various misdemeanors over the last 25 years, Sharpton argued that wasn't a reason for him to die.

"Andrew Brown Jr., if he did wrong, bring him to court," Sharpton said. "But you don't have the right to bring him to his funeral."

G/O Media may get a commission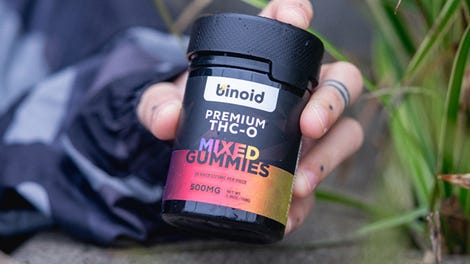 25% Off + Free Shipping
Binoid THC-O Gummies
There has been much controversy surrounding the release of body camera footage, as there has been a considerable level of fuckery at all levels. A judge has denied the release of the footage because even though it's evidence, it would be unfair to the officers. Also, the judge's social media presence reveals he's staunchly a Blue Lives Matter-type, but I'm sure that has nothing to do with anything.

An independent autopsy acquired by the family revealed that Brown was shot five times, with one shot hitting him in the head. The state has treated their official autopsy much like the body camera footage and has refused to release it. During his eulogy, Sharpton called the state's handling of the case a "con game."

"Release the whole tape and let folk see what happened to Andrew Brown. ... If nothing is on tape, won't be nothing on it in 45 days," Sharpton said. "Let the world see what it is to see. If you've got nothing to hide then what are you hiding? All we want is justice."