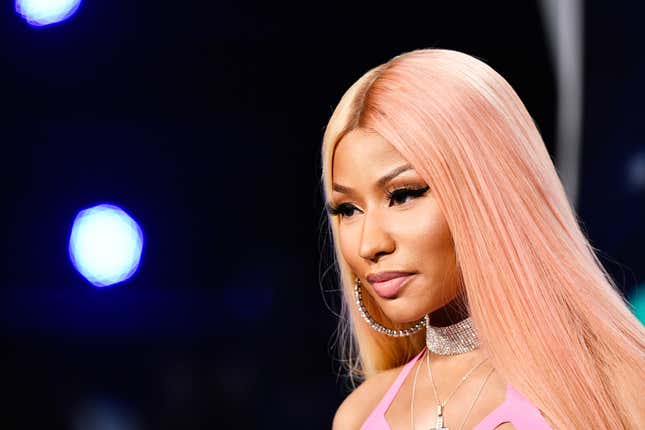 Bye-bye, Barbie?
On Thursday afternoon, apropos of absolutely nothing (as these things go), Nicki Minaj announced her retirement from rap (we think).
Fighting "Lie-abetes": How To Spot And Combat Disinformation and Conspiracies In Politics | The 411: Part 2
"I've decided to retire & have my family," Minaj wrote on Twitter. "I know you guys are happy," she added, a line presumably directed at her haters (Cardi? Some blogger? Remy Ma's cousins? Idk).

 The news came as a surprise—Minaj and Megan Thee Stallion recently dropped a much-anticipated collaboration with "Hot Girl Summer." The rapper also dropped another single, "Megatron," at the top of the summer, which charted on the Billboard Hot 100 for several weeks.
But it's her love life that's taken center stage, as of late. The Queens native has been exuberant in her love for her current boo, Kenneth Petty, whom she started dating in December 2018. This past July, news broke that Minaj and Petty had obtained a marriage license; she also changed her Twitter handle to Mrs. Petty. And as recently as this weekend, Minaj shared love and relationship advice.
"I remember being so afraid to speak cuz I never knew when that person would be in a particular mood and I could maybe say one wrong thing that would get me hit," Minaj wrote. "So the diff you see in me now is that feeling when a woman feels lifted up, safe, appreciated & unconditionally loved."
But Minaj and Petty's relationship has certainly invited its fair share of scrutiny: Petty is a registered sex offender, convicted of using a "knife/cutting instrument" to rape a girl when they were both 16 years old. He also was found guilty of first-degree manslaughter in 2006.
Minaj has vehemently defended her man, at one point responding to an Instagram commenter: "He was 15, she was 16...in a relationship. But go awf Internet. y'all can't run my life. Y'all can't even run y'all own life. Thank you boo."
Many of Nicki's shocked fans pleaded with the top Barb to get to the punchline following the retirement announcement, but the rapper has thus far not clarified her comments. Is Nicki trolling us? Unclear. Has she been known to troll before? No question.
Still, it should be noted that impromptu—and not particularly long-lasting—retirements are fairly standard in the rap game. In announcing her retirement from music, Minaj joins the ranks of Jay-Z, Kid Cudi, 50 Cent, Lil Wayne, Childish Gambino, Jean Grae, Yasiin Bey (formerly Mos Def), Azealia Banks, Lupe Fiasco, Ma$e, and Waka Flocka Flame—the vast majority of whom continued to release music well after announcing their "retirement."