Some 1,400 black college students left Knoxville, Tenn., last week to serve as ''freedom school'' teachers. The goal: to ignite excitement about reading among inner city and rural elementary, middle school and high school students.
Since 1995 more than 10,000 black students trained by the Children's Defense Fund have participated in one of the least-known current examples of youth activism. As they have done each summer, students this year will be working at 146 freedom school sites in 38 states.
The program is ''proudly rooted'' in the Southern Freedom Movement of the 1960s ''and the courageous efforts of college-age youths to make a difference,'' says Children's Defense Fund founder and president Marian Wright Edelman, who, as a Spelman College student, was one of the leaders of the 1960 sit-in movement in Atlanta. In 1964 Edelman became the first black woman admitted to the Mississippi bar, providing important legal aid to that state's freedom movement.
Edelman and I connected via the sit-ins and Mississippi's freedom struggle. I was deeply involved with both. And freedom schools connect me to these students. I proposed freedom schools in 1963, and they became an important part of the summer project that brought nearly a thousand students to Mississippi in 1964. These 21st-century black students sometimes sound like younger versions of those of us who made up the black student movement back then. ''We have to try and be the difference in our little world,'' says 23-year-old Cherie McDonald, a student at Oakwood University, an HBCU in Huntsville, Alab.
And they, too, have a song, though not usually the church-rooted music of the 1960s Southern movement. Although they join in enthusiastically when former SNCC field secretaries Hollis Watkins, Chuck Neblett and Marshall Jones lead them in ''Ain't Gonna Let Nobody Turn Me 'Round'' and other old movement tunes, these students sing Labi Siffre's 1988 ''Something Inside So Strong'': ''The higher you build your barriers/ The taller I become/ The farther you take my rights away/ The faster I will run/ You can deny me … No matter cause there's/ Something inside so strong.''
G/O Media may get a commission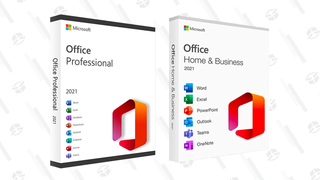 89% off
Microsoft Office Professional 2021 Lifetime License
Or they chant: Freedom Schools rock the house! (3 handclaps and stomps)/ We rock the house, Say What?/ Freedom schools rock the house!
The chants and song are fun, but they also reflect serious business and the educational disaster the students are trying to overcome. Every second of the day, a public school student is suspended. Every 11 seconds, a high-school student drops out. Every 19 seconds a child is arrested. And every three hours, a child or teen is killed by a firearm.
These kids, almost all of whom can talk to these numbers from personal experience, have taken on the mission of fighting this. And they're clear about it: Reading, especially early reading, can be the gateway to escaping the cradle-to-prison pipeline, explained 21-year-old Yasim Butler: ''If you can't read by third grade, you don't want anyone to know you can't read, so you act out. When you act out, you get grouped with the other kids who act out. They can't read. Because no one can read, no one discusses that they can't read, and they end up becoming part of gangs and everyone there is there for the same reason, has acted out for the same reason. But there is always someone in the gang who can read and those who can't end up becoming their tools.''
So where do these remarkable young teachers come from? Amazingly, by word-of-mouth, says Dr. Jeanne Middleton-Hairston, the national director of the Children's Defense Fund (CDF) Freedom Schools program. The CDF doesn't advertise. Churches and other local community organizations who hear of the program can apply to partner with the CDF. The request, via an application form, is due by October. The first meeting with partnering organizations takes place in February. By the end of May, each partnering organization has determined ''interns'' who will become freedom school teachers. ''I don't really want to market this,'' says Middleton-Hairston. ''As it is we're trying to keep up (with demand) now.''
And what goes on in a freedom school? Encouragement to read, of course, with books and close attention from the freedom school interns. There are group activities. The schools are thematic. This year's overall theme: ''I can make a difference.'' There are also weekly sub-themes: self, family, community, country, world and hope. The full curriculum called ''the Integrated Curriculum'' promotes cooperative learning, critical thinking and interpersonal skills. Parents and adult family members are expected to participate in the program. The schools offer parent education programs. The schools also provide breakfast and lunch.
Freedom schools may not have changed entire school systems yet, but they have certainly changed lives. Examples abound. Two years ago, 11-year-old Virna Ocasio was in and out of school. Her home life was difficult. Then, after ending up in a women's shelter after wandering the streets of Rochester, N.Y., with her older sister, she became involved with the program. Now 13, she is on the honor roll at the city's East High School. ''Freedom School is her consistent family,'' says La' Mont Geddis, director of the Rochester freedom school program.
''It's like pouring water into a desert, this program,'' says Taj Brown, the Freedom School manager for capacity and development. ''We have an opportunity to create an entire environment for children.''
And these freedom schools represent more than a summer education program. Speaking to a gathering of students who had been participating for three or more years, 30-year-old Jelaya Liles, who became involved with the program as a 22-year-old, reminded them that they were literally on the first rung of a ''leadership ladder—the freedom school rung.'' More from them is expected and needed, she says. ''I need y'all to change the world.''
Charles Cobb Jr. is senior analyst for All Africa. His latest book is On the Road to Freedom: A Guided Tour of the Civil Rights Trail.