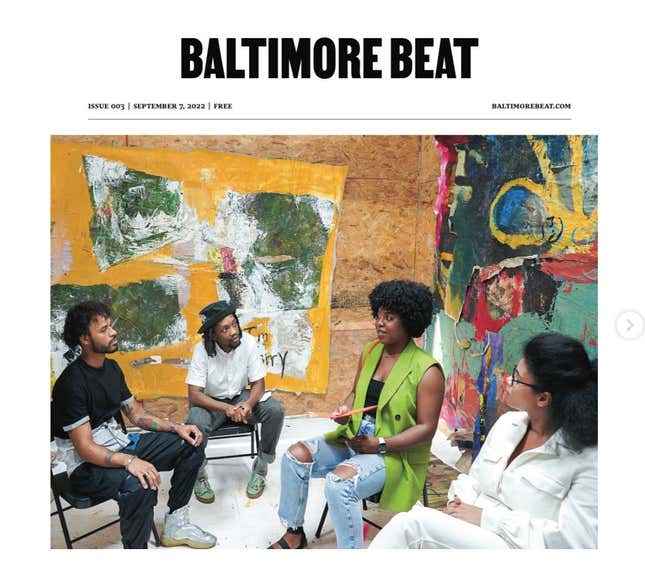 Lisa Snowden-McCray wanted Baltimore's Black residents to have a newspaper they could call their own. It was to be a free paper with Black editors and writers who shared the news that matters most to the community.

'In the Heights' and the Erasure of Dark-Skinned Afro-Latinx Folks
But when the journalist, who has experience at the Baltimore Sun and the Baltimore City Paper and Brandon Soderberg, a former Baltimore City Paper editor, set out to make her dream a reality, they quickly realized it would be harder than they thought. After the publishing company that was backing their free Black paper, the Baltimore Beat, backed out, the pair didn't think they'd be able to keep it going.
That's where Adam Holofcener, a lawyer-activist Snowden-McCray knew from her work, stepped in. His family's foundation, the Lillian Holofcener Charitable Foundation, donated $1 million to keep the paper going. One million dollars could go a long way to help keep the Baltimore Beat going. But what makes the generous donation even more interesting is that the contribution was all the money the foundation had left.
"I knew he was a nice guy," Snowden-McCray said. "I didn't know he had access to a million dollars. The money was a complete shock to me."
According to Holofcener, the foundation wanted to do something different after years of making what he calls "hodge-podge" grants for decades. He says the move is a response to calls for racial justice after the murder of George Floyd in 2020. And he adds that it was a way to make things right after he believes his family got rich at the expense of Black people in Baltimore.
Holofcener's grandfather built his fortune through a portfolio that included insurance businesses and a successful chain of skiing and golfing equipment stores. Adam, 36, says when his family and other whites with means fled to the suburbs, they took the city's money and resources with them.
"It was very important that not only were we giving all the money away but that we were losing the money," he says. "It's as important to disempower ourselves as it is to empower them."
According to the AP, The Beat has raised an additional $250,000 since receiving the grant from Holofcener. They plan to publish as a bi-weekly paper instead of a weekly to manage their costs.
Lisa Snowden-McCray shared her vision for the paper in an August letter from the editor. She wrote, "We wanted to give Black writers the opportunities to tell their own stories," she wrote. "We wanted to help add depth to the stories that are told about Baltimore. We wanted to make a paper that reflected the joys — the art created here, the celebrations held here, the lives lived here — and sadness of the city."