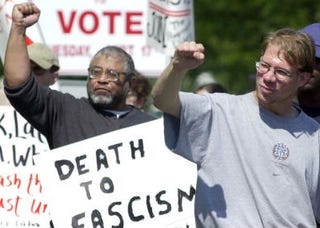 In his Milwaukee Journal Sentinel column, Eugene Kane interviews a former white supremacist who explains why neo-Nazis want to demonstrate for white civil rights.
When I asked for help from readers to better understand why neo-Nazis wanted to demonstrate for white civil rights in West Allis this weekend, Arno Michaels responded.
Michaels, 40, works as an information technology consultant and has plenty of credibility on this issue.
For years, Michaels was a leading white supremacist in Milwaukee, an avowed skinhead and leader of a popular heavy metal band known for hateful lyrics about minorities and gays that gained a wide following.
Michaels left the white supremacist movement in the mid-1990s after realizing the troubling impact the lifestyle would have on his young daughter, then 2.
"I was worried about where I was headed," said Michaels, who seemed like any normal white guy with an abundance of tattoos if you didn't know much about his past.
"I lost two friends to street violence. I understood the way I was going, prison was going to take me from my daughter."
Read Eugene Kane's entire column at the Milwaukee Journal Sentinel.