It looks as if former University of Cincinnati Police Officer Ray Tensing is going to walk free after shooting and killing an unarmed black motorist two years ago. Hamilton County, Ohio, Prosecutor Joe Deters announced Tuesday that he was dropping the case against Tensing, who fatally shot 43-year-old Sam Dubose after two previous juries were unable to reach a unanimous agreement on the murder and voluntary manslaughter charges that Tensing faced.
The most recent trial ended in a hung jury late June after six days of testimony, one day of closing arguments and almost 30 hours of deliberations over a five-day period.
"I don't like it. We believe we cannot be successful at trial," Deters said, according to the Associated Press.
Tensing, 27, shot Dubose in the head after what was supposed to be a routine traffic stop over a missing front license plate on July 19, 2015. Of course, Tensing, who was fired in the aftermath of the incident, claimed that he feared for his life. In his last trial, Tensing claimed that Dubose had pinned his arm inside the car before accelerating.
G/O Media may get a commission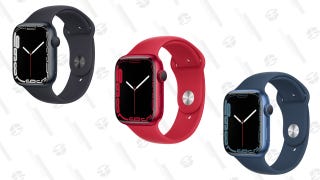 Up To $45 Off
Apple Watch Series 7
Deters told AP that Dubose's family are very upset with the decision not to pursue another trial.
"I feel badly," he said. "I've got to do what I think is right."
The prosecutor said that the case has now been referred to federal prosecutors so that they can determine if any of Dubose's civil rights were violated during the encounter.
"I'm hopeful that the U.S. attorney's office will see fit to proceed in this matter," Deters added.
And so here we are, once again, with another black man dead, little to no answers for the family, while his killer walks free to go about his own life.
Read more at the Associated Press.