Former tennis superstar James Blake was standing outside his New York hotel Wednesday afternoon waiting for a car to take him to the U.S. Open when, he says, a white undercover cop slammed him to the ground.
Blake, 35, once known for his blistering forehand and relentless play, told the New York Daily News that police mistakenly identified him as a suspect in a credit-card-fraud scam and that he wasn't let up until a former cop recognized the once ranked No. 4 player in the world.
"It was definitely scary and definitely crazy," Blake told the Daily News, adding that none of the officers involved identified themselves as cops after he was slammed to the ground, with police holding him there for some 15 minutes.
Blake told the Daily News that he suffered cuts to his elbow and leg from the incident.
"In my mind there's probably a race factor involved, but no matter what, there's no reason for anybody to do that to anybody," Blake told the newspaper. "You'd think they could say, 'Hey, we want to talk to you. We are looking into something.' I was just standing there. I wasn't running. It's not even close [to being OK]. It's blatantly unnecessary."
G/O Media may get a commission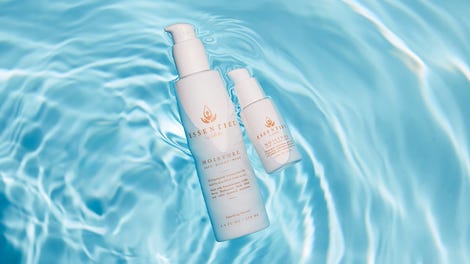 20% off
Essentiel by Adele
Blake told the newspaper that because he had done nothing wrong, he thought the man charging toward him wearing a T-shirt and shorts was an old friend or someone excited to see him. Four more cops would join the fray. 
"Maybe I'm naive, but I just assumed it was someone I went to high school with or something who was running at me to give me a big hug, so I smiled at the guy," Blake told the Daily News.
Blake added that the man, who was not wearing a badge, grabbed the tennis star, who had just finished an interview with a writer for a tennis magazine, and slammed him to the ground, telling him to roll over and "don't say a word."
"I'm going to do whatever you say," Blake said he told the man. "I'm going to cooperate. But do you mind if I ask what this is all about?"
The man, who Blake would later learn was a cop, reportedly told him, "We'll tell you. You are in safe hands."
"I didn't feel very safe," Blake told the Daily News.
A police source told the newspaper that Blake was misidentified as the suspect in a credit card scam that was used to buy a cellphone. An unidentified man standing near Blake and believed to have been connected with the crime was arrested at the scene.
"Once Blake was properly identified and found to have no connection to the investigation, he was released from police custody immediately," the New York City Police Department said in a statement viewed by the Daily News. "In regards to the alleged improper use of force, the police commissioner directed the internal affairs bureau to investigate."
Blake told the Daily News that he initially didn't want to publicize the incident but thought about how many times this happens to people without celebrity cachet and knew that he had to tell his story.
"I have resources to get to the bottom of this. I have a voice," Blake said. "But what about someone who doesn't have those resources and doesn't have a voice? The real problem is that I was tackled for no reason, and that happens to a lot of people who don't have a media outlet to voice that to."
Blake told the newspaper that he wanted an apology from the NYPD and policy in place to prevent this kind of altercation from happening again. He added that while the other cops were apologetic for the incident, the officer who tackled him never said a word.
"It's hard to believe this can still be happening," he said.
Read more at the New York Daily News.