She's hilarious, adorable, versatile, has a profound love for Prince and is descended from the musical genius that was Minnie Riperton, but after decades in entertainment, lately, Maya Rudolph has been enjoying the kind of buzz usually reserved for ingenues.
It all started when she co-presented with comedienne of the moment Tiffany Haddish at the 2018 Oscars; her dry wit the perfect foil for Haddish's more outrageous delivery. Instantly, we were clamoring for Tina Fey and Amy Poehler-style hosting gigs for the duo, who gave the ceremony a much-needed dose of #blackgirlmagic.
Then came a Primetime Emmy nomination for Outstanding Guest Actress in a Comedy Series for her appearance as Judge Gen on NBC's The Good Place—which she lost to Haddish on Monday night.
But with her latest role opposite former Saturday Night Live castmate Fred Armisen in Netflix's Forever, Rudolph has once again captured the industry's imagination, proving that she's every bit as malleable a talent as she was during her years on the legendary sketch show. In the role of June, she is equal parts comic and dramatic, as her character navigates a truly existential crisis.
Perhaps that's why Vulture recently called Rudolph's performance "a revelation," while The New York Times Magazine spent several paragraphs likening her to God herself. When asked why she has such cross-cultural appeal, some might say it's Rudolph's elasticity—her almost race-transcendent presence and performances, but this writer would argue that it's her vulnerability that makes her so relatable.
G/O Media may get a commission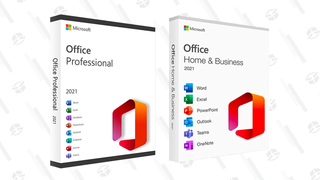 89% off
Microsoft Office Professional 2021 Lifetime License
In Rudolph's own words, she's a mixed-race woman who likely started honing her acting chops during a childhood indelibly marked by losing her mother to breast cancer at age seven—which sparked her dramatic gifts at an early age, likely as means of processing her grief. The loss also revealed that her white, Jewish father had no idea how to do her thick, curly hair; an issue that would persist throughout her life.
"So much of my childhood was dealing with my hair and being super embarrassed by it, mainly because I grew up being the only mixed kid," she told the Times in an interview, explaining that her natural hair was "super, super, superthick and supercurly."
"I was just completely lost. My mom died when I was 7, so when you don't have a woman—First of all, hair products that exist today did not exist when I was a child."
Rudolph went on to recall visits from her black Chicago aunts, in which they would attempt to painfully tame her hair with "marcel irons." Even in college and beyond, she had the all-too familiar experience of classmates and coworkers asking to touch her hair, recounting one incident to the Times:
"Your hair is so ethnic. Can I touch it?" ("No.")," she said. "I actually have an aversion to that word, way more than people say they hate the word 'moist.' I hate the word 'ethnic' in that way. It's like they're talking about a print."
And her rise to stardom on SNL didn't buffer her from the embarrassment that came from being an "other" in a predominantly white cast, despite the fact that she played characters of almost every race during her seven-year run on the show.
"My hair was natural when I started 'Saturday Night Live,' but it was so thick to get under the wigs," she said, recalling that the room where she'd get her weekly blowouts "was on the same hallway as a lot of the dudes' dressing rooms. And every [expletive] Friday night, we'd hear some [expletive] white guy walking down the hall going, 'Is something burning in here? What's burning?' "
Her answer? One pretty much any woman of color who has ever applied heat to her hair can relate to: "I'm like ... 'I'm. Get-ting. My. Hair. Done.' "
It's this type of transparency, even from a woman who is otherwise relatively lowkey about her private life, that makes Maya Rudolph feel like everyone's best friend. And with her role in Forever, it's ultimately once again Rudolph's vulnerability that is the draw—even more so than the plot. As Vulture asked:
"How has it taken this long for Rudolph to have a dramatic role that allows her to show the breadth of her considerable abilities? How has such a moving, transcendent dramatic actress been hiding in plain sight for this long?"