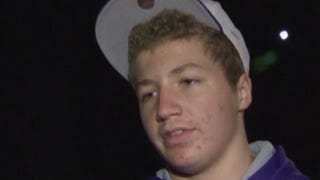 A Massachusetts high school football team is forfeiting the remainder of its games after a player's house was sprayed-painted with racist graffiti, the Huffington Post reports.
Lunenburg High School has canceled its remaining two games after the house of Isaac Phillips, 13 (whose mother is white and father is black) was scrawled with the message: "Knights don't need n—-ers!" It is believed that the message was done one night last week, and some have speculated that it may have been written by members of Phillips' own team, HuffPost reports.
The FBI and the Anti-Defamation League are now involved in what Lunenburg Superintendent Loxi Jo Calmes is calling an "act of hate," the Worcester Telegram reports.
The teen's father, Anthony Phillips, told the Telegram that he believes his son's teammates are responsible for the racist vandalism.
Police and the FBI are currently investigating the matter.
On Monday, Massachusetts Gov. Deval Patrick weighed in, calling the incident "disgusting" and asking people to lend support to the Phillips family.
Read more at the Huffington Post and Worcester Telegram.