Islam El Masry, the Portland, Ore., food truck driver caught on video throwing a Gatorade bottle at a black customer and verbally abusing her, wants you to know that he's not a racist.
"My father is black. I'm African, too," the owner of the Small Pharoah food cart told KGW-TV Thursday.
He said he was having an extremely busy lunch rush when Carlotta Washington attempted to pay for her $7 lunch, in part, with quarters. He didn't have time to count the change, he said, and asked her to take her business somewhere else.

But El Masry didn't stop there. Video footage showed that as the argument escalated, El Masry called Washington a "nigger" and sprayed her with Sriracha hot sauce.
G/O Media may get a commission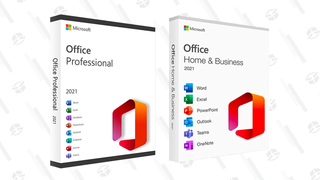 89% off
Microsoft Office Professional 2021 Lifetime License
But according to the food truck driver, who pleaded not guilty Thursday to charges of misdemeanor harassment and assault, that wasn't racism speaking. El Masry, who also told the local TV station that he has a lot going on in his personal life, said that in the heat of the argument, he let his emotions get the better of him.
"When you fight with someone, you need to get what is inside you out because you are boiling," he said. "You want to make her feel bad as she made you feel bad. It's just action and reaction."
For her part, Washington told KGW-TV that she's ready to forgive El Masry, saying she doesn't want him to pay a huge price over a "temporary moment."
"I feel he should be held accountable for what he's done, but I don't want him to be in jail," she said, adding that although the incident still hurts, she refuses to let it overtake her.
"I'm not perfect … but we got to show love because that's what's going to make our world great again," she said.