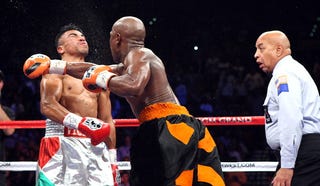 As expected, Floyd Mayweather Jr. defeated Victor Ortiz by a controversial fourth-round KO, winning the WBC welterweight title. As usual, Mayweather entered the ring with style, wearing a flashy robe and buoyed by his on-again/off-again BFF Curtis "50 Cent" Jackson, who carried his two belts.
What was unusual? Mayweather cold-cocked Ortiz in the closing seconds of the fourth round of their welterweight championship fight while Ortiz was apologizing for an intentional head butt.
Yes, Ortiz failed to follow the instructions always given at the beginning of the fight — "Protect yourself at all times" — and Mayweather capitalized on Ortiz's lapse in judgment by knocking him out. It was pretty outrageous. The only comic relief in the tense and bizarre moment was the look on referee Joe Cortez's face when Mayweather knocked out Ortiz. Can you say "classic"? In NBA terms, the image should be "posterized."
Now we're back to what is usual: controversy and Floyd Mayweather Jr. Fans and commentators are falling on both sides of the issue. Some believe the boxing champion sucker-punched Ortiz, while others feel that Ortiz got what he deserved after a hard head butt given to Mayweather earlier in the round that cost Ortiz one point. Some have even called for a rematch, which is not going to happen.
Clearly Ortiz wasn't ready for prime time, but we know someone who is: Manny "Pacman" Pacquiao. Mayweather ran down Pacquiao — and Larry Merchant, we might add — during his post-fight presser. It will be interesting to see if he can back up his words — without a sucker punch.
Watch video of the knockout at ESPN and tell us what you think. 
In other news: Reschedule the MLK Memorial Dedication Again.