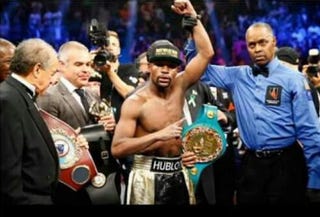 In what was dubbed "the fight of the century," Floyd Mayweather Jr. defeated Manny Pacquiao Saturday at the MGM Grand Garden in Las Vegas, claiming a $180 million payday, the Associated Press reports.
Mayweather remained unbeaten in 48 fights in the welterweight title fight, reinforcing his legacy as the best of his generation and winning by unanimous decision.
Two ringside judges scored the fight 116-112, while the third had it 118-110. AP had Mayweather ahead 115-113 in a battle during which both men fought with caution, notes the news outlet.
Here is what Twitter had to say:
https://twitter.com/MikeTyson/status/594736142286659584https://twitter.com/OBJ_3/status/594754733807538176https://twitter.com/Football__Tweet/status/594811409176887296https://twitter.com/RagsMartel/status/594818355296661504https://twitter.com/frankieveejay/status/594821939757240321
While the fight was not as great as it might have been five years ago, it was enough to settle the question that boxing fans had asked for years: who would win the big welterweight matchup of the best fighters of their time.
Read more at the Associated Press.