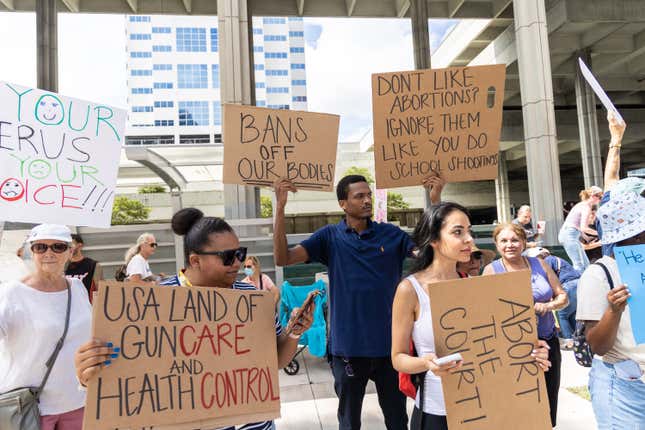 Updated 4/14/2023 at 8:30 a.m. ET  
Florida, once seen as a "safe haven" for abortion access in the South, just passed a six-week abortion ban. As expected, Florida Governor Ron DeSantis signed the bill as quickly as he could get his hands on it. The law makes abortion care illegal before most people even know they're pregnant, effectively making it a near-total abortion ban.
Your Tax Dollars Are Funding Anti-Abortion "Crisis Pregnancy Centers"
To add insult to injury, DeSantis signed the law during Black Maternal Health Week, despite Black Floridians sounding the alarm that the law will have devastating impacts on Black pregnant people in the state.
"Make no mistake–this is effectively a total abortion ban in the state of Florida and represents nothing less than a direct attack on our human rights and bodily autonomy," says Trishay Young, Founder of Melanin Mothers Meet, a Tallahassee-based service provider for Black mothers. "The fact that it's occurring during Black Maternal Health Week is an insulting and painful reminder of the vast racial disparities in reproductive health outcomes that SB 300 will only serve to make worse."
Among those shouting from the rooftops about the dangers of this bill is Nancy Metayer Bowen, the first Black and Haitian woman Commissioner of Coral Springs, FL.
"This legislation is playing with people's lives. People are going to die for the sake of an agenda," says Metayer Bowen, "an agenda that doesn't benefit people that look like me, a black woman."
Metayer Bowen isn't being hyperbolic. Research shows that abortion bans heavily increase rates of Black maternal mortality. In Florida, Metayer Bowen says that many Black Americans struggle to access even basic health care, and forcing them to go through with pregnancies without access to proper care is a dangerous gamble with people's lives.
The law also risks access to health care on an even greater scale, says Metayer Bowen. We've already seen healthcare providers leaving states with restrictive abortion bans out of fear that they could face legal jeopardy. What's to stop providers in Florida from leaving once the ban goes into place?
"We're going to see a mass exodus of providers who will not be able to provide the care that our communities need," says Metayer Bowen.
What About The Florida Law's Exceptions?
The law does carve out exceptions for the life of the mother, and victims of rape, incest, and human trafficking for up to 15 weeks. But Diamond Delancey, Black Organizing Program Manager at Planned Parenthood of South, East, and North Florida, says this isn't the gift to survivors that Florida Republicans are positioning it as.
"If you are a survivor of sexual assault like I am," says Delancey, "there's an exception, you can get an abortion at 15 weeks, but it puts a significant burden of proof on the victim."
Not to mention the fact that survivors still have to cope with what happened to them and make a significant decision within a very limited time frame. For everyone who doesn't fall under the exception or can't meet the burden of proof, this is essentially a near-total abortion ban, says Delancey.
"Six weeks is not a lot of time to even go through the process of deciding to terminate," she says, "because you really don't even know you're pregnant at six weeks."
Also, as we've previously written, these "life of the mother" exceptions often fail to account for real-life medical crises.
"It's very unclear to doctors practicing on the ground how sick is sick enough," Dr. Nisha Verma, an OBGYN based in Atlanta, told The Root in August. "It's really counterintuitive for us to have to wait for our patients to have to get sick before we can intervene. But that's what these laws force us to do. And it absolutely affects maternal outcomes."
Economic Burden of Florida Abortion Ban
As much as this is a health care issue, this is also an economic issue for Black Floridians, says Metayer Bowen. "Forced pregnancies are gonna push people further and further into poverty if they're already in a situation where they're struggling," she says.
Abortion and Black women's financial well-being are inextricably linked. The Brookings Institute discovered that abortion legalization disproportionately improved Black women's earnings, education levels, and labor force participation. On the flip side, the Turnaway Study found women who were denied abortion care were more likely to experience poverty, go into debt, and be evicted than women who were able to access abortion care.
While you could argue that people could just look for care outside of the state, for many Black Floridians (over 20 percent of whom are living in poverty), travel for care is cost-prohibitive.
Metayer Bowen, who is religious, says that the Florida GOP needs to worry less about life before birth and more about what happens next.
"We have a state that doesn't care about education, that doesn't provide safety nets for these families, that doesn't respect maternity leave or health care, or child care," she says. "If we are going to push these laws and push these forced pregnancies. Where's the assistance after birth?"