A man in Sanford, Fla., reportedly killed his girlfriend and shot five other people, including the woman's 7- and 8-year-old sons, Monday in what the Sanford police chief describes as a domestic incident that went wrong.
Police Chief Cecil Smith told the Orlando Sentinel that Allen Dion Cashe, 31, had an argument with his girlfriend, Latina Herring, 35, earlier on Monday over a set of keys that he refused to return. He had an AK-47 rifle when he was arrested after the shooting.
"This was a domestic that went wrong," Smith said.
Herring's two young sons and their maternal grandfather, 60-year-old Bertis Herring Jr., who was also shot, were all in critical condition, police said.
The boys were taken to Arnold Palmer Hospital for Children, where their paternal grandfather, Theodore Jones, told reporters, "They [are] strong. They are going to fight."
Cashe's two other victims were 18-year-old Winter Springs High School student Rakeya Jackson and Lazaro Paredesquelite, 43. Both Jackson and Paredesquelite are in stable condition at Central Florida Regional Hospital in Sanford, according to the Sentinel. Jackson was shot while waiting for her bus, and Paredesquelite was shot at a nearby bus stop.
G/O Media may get a commission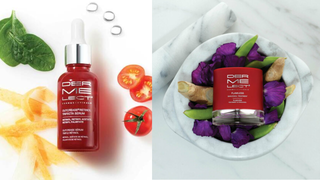 Save $19
Retinol Renewal Kit
According to police, Cashe and Herring had an argument over belongings at a gas station and had to be separated by an officer. Police later received a call that the argument was continuing on the front lawn of Herring's home.
An officer responded to that call, and as he was talking to the couple, a third party called police to say that Cashe had a gun. The officer did not see a gun, however, and Cashe went on his way.
Not long after the officer left, police got a call about the shooting at Herring's home.
Cashe reportedly ran from the house after the shooting and shot Jackson and Paradesquelite near a school bus stop.
According to the Sentinel, a police officer in the area heard the second shooting and followed Cashe to an apartment complex, where he was taken into custody. A gun was found in his car.
From the Sentinel:
Cashe pleaded no contest in 2015 to being a felon in possession of a firearm and was placed on 18 months of probation, which was scheduled to end Friday. But he also has a pending violation-of-probation case against him. He also served six months in jail for punching a former live-in girlfriend in Casselberry several times in 2012.
Read more at the Orlando Sentinel.