Well, some of you asked what could possibly have led to the odd and terrifying incident in which a man was seen holding on to the hood of a car that was speeding down Interstate 95 in Florida ... and we now have some answers.
Toheeb Jimoh Talks The Power, Acting With Toni Collette, & Ted Lasso on That's So Random
Both the unorthodox passenger, Junior Francis, and the driver of the vehicle, Patresha Isidore, have spoken out to news stations, each telling their side of the story.
According to WPLG-TV, Isidore, 24, was actually arrested on Sunday after she was seen zipping down the highway with Francis, who happens to be her ex-boyfriend, clinging to the hood of the car.
G/O Media may get a commission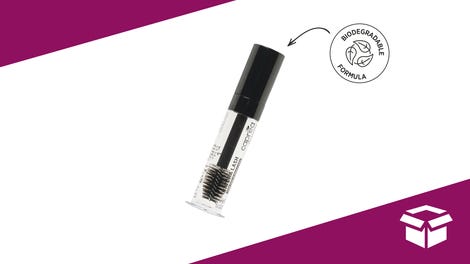 It's $8
20% Off Lash + Eyebrow Serum 2.0 - Caprea Beauty
Francis, 22, told the news station that the couple—who still live together—have had a complicated on-again, off-again relationship and share a 5-year-old daughter.
Apparently, both he and Isidore needed the car—which they also share—on Sunday night, but Isidore beat him to it. His reaction was to jump on the hood to stop Isidore from leaving.
But we all know how that turned out.
"She turned the engine on, dropped it in reverse and turned," Francis said. "That's when things took a turn."
Isidore, who has since bonded out of jail, told WSVN-TV that she was trying to go pick up her daughter when the incident unfolded.
"I had to go get my child. I wasn't going to deal with any foolishness," she said. "He had plenty of times to get off the car. He didn't want to stop."
She apparently filmed everything from inside the vehicle, even as she sped down the highway, reaching speeds of about 70 mph. In that footage, Isidore could be heard shouting at Francis to get off her car.
Isidore said she felt like she had no choice after feeling threatened.
"He was threatening me, so I was scared, so of course I wasn't going to stop and let him get in the car," Isidore said, adding that she was actively trying to get a restraining order against Francis ... despite the fact that they live together.
"That guy is crazy," she said. "He won't leave me alone. We broke up about eight months ago."
In the video, Francis could be seen chatting, seemingly casually, on the phone. It turns out he was actually speaking to police as he clutched the hood of the car.
"I actually held on like this," Francis demonstrated to WPLG-TV. "It was with one hand, and [with] the other hand I'm on the phone, listening to hear what is going on with authorities."
According to WPLG, authorities have released the 911 calls, in which Francis can be heard repeatedly yelling at Isidore to stop the car.
"She's swerving the car and I'm on top of the car. I really need help," Francis told the dispatcher.
Isidore said she finally came to her senses and attempted to get him off by stopping at Ives Dairy Road.
"When I was on the 95, I thought, like, 'Hey, this is crazy' or whatever," Isidore told WSVN. "I actually pulled over to Ives Dairy and tried to stop the car, and he still didn't want to get off."
Eventually, Francis did give up and got inside the vehicle, and the two continued on their journey, but Isidore was soon arrested and hauled off to jail on charges of culpable negligence.
To hear Francis tell the story, though, the mad stunt came to an end when he was able to remove the key from the ignition.
Isidore's arrest report reflects the fact that Francis told police he did not want to press charges and refused to give a sworn recorded statement. However, he told WPLG that he was still shaken up by the incident.
"This woman is going to kill me," Francis said. "She's really out to kill me."